Tofino British Columbia
Vancouver Island | Cowichan Valley | Mount Washington | Chemainus | Parksville | Nanaimo | Tofino | Courtenay Comox Valley
Have you ever been to Paradise. Tofino, BC, is the Paradise of Western Canada. Where else can you experience temperate rainforests, abundant wildlife, long clean sandy beaches, beautiful surf and amazing people? Tofino, BC, is like nowhere else in the world, quite literally. As there is less than 3% of the world's temperate rainforest left in the world, just that makes Tofino one of the most rare places in the world. Couple that with the fact the city is at the end of a peninsula containing the world-famous Pacific Rim National Park and is in the Kennedy and Clayoquot watersheds, considered some of the most pristine wilderness in the world and designated a UNESCO Biosphere Reserve.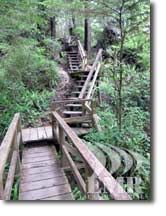 When you arrive in this Pacific playground you will quickly see why it is truly a world-class vacation destination. Beauty abounds at every turn; clean, uncrowded beaches at the end of every street. With a thriving eco-tourism economy, Tofino, BC, is the place for adventure. But wait, there is more. Perhaps you don't want to hike the rainforest trail, witness eagles swooping for salmon while you're hiking up Mears Mountain on Mears island. Or perhaps renting sea kayaks and paddling to the Broken Island group to camp in total isolation is what interests you. Maybe you've always wanted to try surfing? You can find some of the best waves in the world on the west coast of Vancouver Island! Maybe you just want to sit in the hot tub on the deck of your :sms and watch the waves roll in. Did you perhaps come for one of the amazing spas and resorts, or perhaps you would just like to do some fishing? Whatever fits your interest, Tofino BC is right there with you in all its beauty.
To travel by car to Tofino, you have a scenic four- to five-hour drive from Victoria North to Highway 4 in Parksville, and then west, across the island to arrive in Tofino and Ucluelet. As this area is so close to the natural ways of the past, there was no road until the 1960s and no paved access until the 1980s. Though fishermen have called the picturesque seaside town of Tofino home since the Spanish landed on its coast in 1792, Tofino's rich history dates much farther back, when the First Nation's band the Nuu-chah-nulth Indians habited the area for thousands of years. Now the traditional inhabitants of the area remain a strong presence by showing and sharing their arts, crafts, artifacts and culture. The town of Tofino, BC, has many spectacular galleries including that of Roy Henry Vickers, one of the most famous Native artists from the area.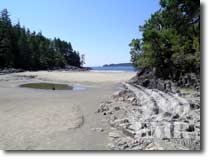 As Tofino has been recognized as a spectacular jewel of the coast, its wilderness, beaches and pristine valleys have been turned into parks and reserves. When you drive down the main highway into Tofino you pass through The Pacific Rim National Park, which is open year-round and is home to the world-famous West Coast Trail. The West Coast Trail begins on the other side of Barkley Sound from Ucluelet and can be accessed either by Ferry or by driving around the sound on logging roads. From the small quaint town of Bamfield BC, the trail begins or ends depending on which direction you happened to take it. Also in the area is the spectacular Clayoquot Sound, a designated UNESCO Biosphere Reserve. Nowhere else in the world can you see salmon spawning amongst 1000-year-old cedar trees while the crisp and clean Clayoquot river rushes by. It is truly a sight and experience to remember. Nothing can compare to the beauty and grandeur of an old-growth temperate rainforest.
Not only does Tofino, BC, have second-to-none scenery, it also boasts a large selection of interesting activities as well.Just to a few: whale watching, hiking, windsurfing, sea kayaking, storm watching, camping, golfing, salt water and fresh water fishing, swimming, surfing, beachcombing, and even diving. If you prefer to take guided trips, tours and adventures, there are many excellent Tofino-based companies who are able to cater to all interests, from cultural tours to ecotours, from hiking to biking, from kayaking to surfing, from whale watching to fishing.From wildlife viewing tours to a trip to the exquisite hot springs cove, Tofino BC has it all.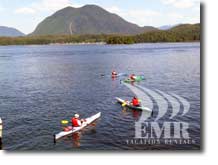 But wait, there are also the beaches: Radar Hill Beach, Long Beach, Combers Beach, Chestermans Beach, Tonquin beach and Wickaninnish Beach – to name a few – wow visitors with their incredible cleanliness and beauty. Some of these offer accommodation right on the sand. Perhaps you would like to work on your tan in peace. Well, you might choose to arrive in August and experience the amazing weather – never too hot, never too cold, always temperate. Perhaps you would rather sit in your hot tub and watch the storms roll off the ocean. Then the winter months are for you, November, December and January. If the spring suits your fancy, May is the month where thousands of shorebirds arrive on the beaches. Truly an amazing experience all year round no matter what time you arrive.
And there is still more if you have ever wanted to splash along side a whale while you watch them frolic in the sun. Tofino, BC, has some of the world's best whale watching. March is the month of the annual Pacific Rim Whale Festival, which celebrates spring whale migration from Alaska to the warmer waters of the south. 20,000 whales make the round-trip journey that covers more than 16,000 kilometers and passes right by the open ocean in front of Tofino, BC, making it a perfect place to experience whales.
After your day of adventure and fun, you'll want to relax and Tofino is the place for that. Quiet, calm and serene are the only words to describe the feeling when you return to your :sms to continue to enjoy the spectacular views and experiences much after dark. Visit Tofino, BC. You will come for the beauty and leave feeling refreshed and free of worries.

Contact
Have a property you'd like to list?
EMR Vacation Rentals is always looking for additional high quality properties to add to our inventory. Drop us a line, let's chat about how we can help you!