Whistler, British Columbia
Whistler | Pemberton | Squamish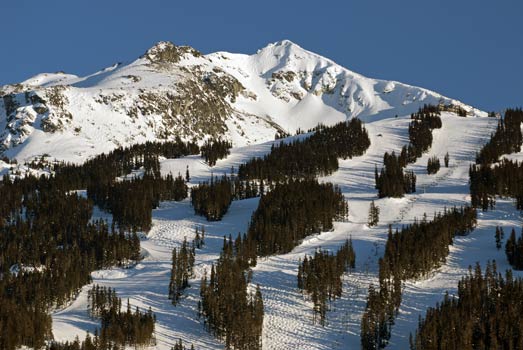 Whistler is, without doubt, one of the top ten finest year-round resorts in the world. Whistler has continually received awards and accolades in a variety of classes including the "Number One Ski Resort in North America," "One of the best golf resorts in the world" and "Best overall resort design." It is most well known as a world-class ski centre, but it is equally attractive as a summer destination with a wide range of activities. In fact, if you want you can actually still ski in summer as some runs on the glaciers high in the mountains are still open.
Whistler is situated 120km north of Vancouver in the Coast Mountains of Western British Columbia. The resort town of Whistler (known as the village) is located between the two peaks of Whistler Mountain and Blackcomb Mountain. These two mountains produce a year-round selection of leisure opportunities that would be hard to surpass anywhere. Summer activities include great hiking, swimming, sunbathing on lakeside beaches, cycling or just taking a gondola or chair lift up the mountains to admire the magnificent view.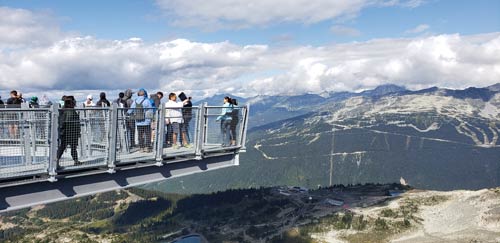 If Vancouver is the playground for adults, Whistler is the playground for those who enjoy sports and the enjoyment of the after-party. Combined together, the mountains at Whistler, BC – Whistler and Blackcomb – provide 200 + runs and skiing that is second to none. The incredible layout of the resort includes mountain-top chalets and the most luxurious hotels and :smp. From everywhere in the village you are treated breathtaking scenery in summer and winter. All of this can be found just a two-hour drive along the Sea to Sky Highway, which in itself is an experience as it rises from sea level to just under 4000 feet.
What makes Whistler a premier resort area, you ask? Perhaps it the idyllic setting nestled in the coast mountains, surrounded by alpine lakes and dense forest. Perhaps it is the skiing resort that has constantly been ranked in the top 5 on everyone's best-skiing list. For you it might be the hundreds of acres of trails that make up the Whistler Mountain Bike Park. Even still, maybe you came for the Arnold Palmer designed Whistler Golf Club or Nicklaus North Golf Course or maybe it was Fuzzy Creek. Visit now to experience these things but don't forget that Vancouver-Whistler were chosen to host the 2010 Winter Olympic Games from February 12th to 28th. Take our word for it, this is a premier travel destination.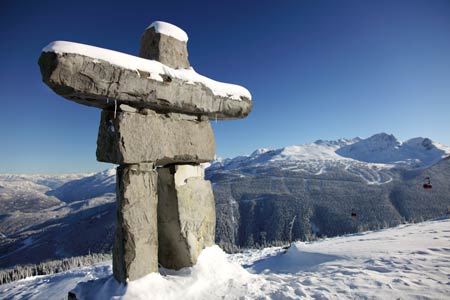 Here are some more of the awards that Whistler BC has achieved:
The UK paper the "Daily Telegraph" voted Whistler, BC, the Best Ski Resort in October 2000 and 2001.
"Snowboard Life Magazine" rated Whistler, BC, the Number One Snowboard Resort in North America in 2000.
The UK publication "The Good Skiing & Snowboarding Guide" voted Whistler, BC, North America Resort of the Year in September 2000 and Whistler, BC, won that publications Golden Ski Awards in 2001
"Vancouver Courier" voted Whistler, BC, the Best Weekend Getaway Best Ski/Snowboarding in their Reader's Choice Awards in 2000.
"SKI Magazine" readers voted Whistler the Number One Ski Resort on the continent in the magazine's 1999,1996 and 1995-reader survey.
"Mountain Sports and Living" has rated Whistler the # 1 Ski Resort in North America 7th Consecutive Year
"Skiing Magazine editors" selected Whistler as the Number One Ski Resort in North America in 2000, 1999, 1998 and 1996.
"Snowboard Canada" – December '98 Best Snowboard Destination In North America 3rd Consecutive Year
Japan's publication the "Blueguide Ski's Ski Magazine" voted Whistler, BC the # 1 International Destination for 11 Consecutive Years.
The US publication "The Seattle Magazine" voted Whistler, BC, the #1 Ski Destination in Pacific Northwest for 4 Consecutive Years.
"The Econoguide – Ski and Snowboard America" made Whistler, BC the #1 Ski Resort in the West in 1999.
Golf Digest Magazine rated Whistler as one of the top 50 Greatest Golf Destinations.
Below is some pertinent information about the ski mountians in Whistler BC.
Whistler / Blackcomb Stats
| | |
| --- | --- |
| Average Snowfall | 360 inches/30 feet/9,14 metres per year |
| Total Terrain | 7,071 acres/2,874 hectares |
| Trails | 200 + |
| Longitude/Latitude | 50° latitude, 122° longitude |
| Mountain Restaurants | 17 with a total of 6,540 restaurant seats |
| Highest Lift Accessed Elevation | 2,284 metres/7,494 feet |
| Whistler Village Elevation | 675 metres/2,214 feet |
| Creekside Base Elevation | 653 metres/2140 feet |
| Number of Lifts | 33 |
| Hourly Lift Capacity | 59,007 skiers per hour |
Whistler Mountain
Blackcomb Mountain
Vertical:
1,530 metres/5,020 feet
1,609 metres/5,280 feet
Top Elevation:
2,182 metres/7,160 feet
2,284 metres/7,494 feet
Creekside Base Elevation:
653 metres/2,140 feet
653 metres/2,140 feet
Village Base Elevation:
675 metres/2,214 feet
675 metres/2,214 feet
Skiable Terrain:
1,480 hectares/3,657 acres
1,382 hectares/3,414 acres
Terrain Type:
20% beg. 55% int.
25% adv.
15% beg. 55% int.
30% adv.
Trails:
100 plus
100 plus
Total number of lifts:
16
2 high-speed gondolas
6 high-speed quads
2 triple chairs
1 double chair
5 surface lifts
17
1 high-speed gondola
6 high-speed quads
3 triple chairs
7 surface lifts
Total Hourly Capacity:
29,895
29,112
Longest Run:
11 kilometres/ 7 miles
11 kilometres/ 7 miles
Snow making:
215 acres/87 hectares
350 acres/142 hectares
Snowboard Facilities:
1 halfpipe, 1 park
2 halfpipes, 1 park
Season Dates (approximate):
November 27 – June 6
November 22 – April 25
Summer Sightseeing:
Daily: June 26 – September 26 10am – 5pm
Saturdays: June 26 – Aug 28 10am – 8pm
Weekends only: October 2/3/4 10am – 5pm
Daily: June 7 – August 1 10am – 3pm
Summer skiing/riding:
Not Available
June 7 to August 1

Contact
Have a property you'd like to list?
EMR Vacation Rentals is always looking for additional high quality properties to add to our inventory. Drop us a line, let's chat about how we can help you!
Testimonials
What Our Guests
Say About Us

Pendray House
The house was great! Initially there were some issues with the alarm, but once that was resolved, it was excellent! The location is great! It was quiet, peaceful, and clean.
Lindal Home Sidney B.C.
Over all the house was great.We spent time in Sidney as well as Victoria and all the way yo Cambpell River. We went Whale watching ,caving,fishing,attended the fire works in Victoria. Lots of fun. See you next time.

A Fun Getaway
Lovely setting, nice clean house with lots of personal touches that made it cozy & comfortable. Lots of interesting books, and games, great outdoor space. Hope to come again soon.