Cariboo Chilcotin British Columbia
Welcome to the North Cariboo Chilcotin…Pure…Gold!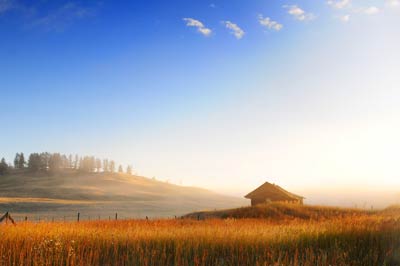 Named after the woodland caribou that once populated the area in abundance, the Cariboo-Chilcotin was the first region of the interior north to be settled by Europeans.
In fact, at one point, this area, delineated by the forks of the Quesnel River and the Cariboo Mountains, was a thriving centre and an important part of British Columbia's colonialism. Today, the famous Gold Rush that breathed life into the region is long over. The area is under-populated and, for the most part, wild – which gives it an untamed charm you won't find anywhere else in the province.
The Cariboo-Chilcotin provides the alluring combination of historical charm, wild-west atmosphere and endless recreational possibilities. Quesnel, the Gateway to the North Cariboo-Chilcotin, is a centre for excellent fly fishing as well as many other water sports including swimming, river-rafting and canoeing. But by far the most exhilarating way to enjoy the waters of this region are by jet boat. Depending upon the season, different rivers provide different experiences all year round. Guides will take you roaring across the water, providing a unique perspective of local wildlife, Gold Rush-era relics and above all else, the towering Hoodoo Formations – 12 million year-old monoliths that dot the landscape. Other activities available in the area include biking, golfing, horseback riding and even downhill skiing, cross-country skiing and snowshoeing in the long winter months. For the avid hiker, Pinnacles Provincial Park offers astonishing panoramic views just moments from town. Like your vacations a tad more educational? Quesnel is home to one of the top ten community museums in the entire province as well as numerous heritage buildings and an Antique Machine Park. The shopping doesn't suffer here either, with 2 malls and plenty of shops. But by far the visual highlight of this town is the Billy Barker Casino Hotel with its Mississippi paddle-wheel boat exterior.
While you're here, why not sample the bounty of the farms and ranches north of McLeese Lake? The Quesnel Old Time Farmers Market is an outdoor produce extravaganza that runs Saturdays from May to October and includes all the requisite fruits and veggies as well as herbs, fruit preserves, baking, crafts and even live-entertainment.
However, it's not Quesnel with its casino, shopping and museum that draw the largest crowds to the Cariboo-Chilcotin. It's the town of Barkerville. Once the epicenter of the biggest Gold Rush in history, this British Columbia landmark is now a museum town. Not because it has museums; because it is a museum. Everything here is accurately 1800's, right down to the actors who, staying in role and costume, make this the most surreal time-travel trip you'll ever take. Whether you're meandering along the rough sawn boardwalks, taking a quiet moment in St. Saviour's Church, watching the blacksmith at work, riding in a stagecoach or panning for gold yourself, this is one family experience not to be missed!
An ideal place to begin your trip back in time is at the historic location of Cottonwood House, a nineteenth century roadhouse situated on the old Cariboo Wagon Road. Pristinely preserved, this living museum features an original root cellar and double barn and includes a café plus a gift shop so you can take away something to remember it by. Be sure to enjoy the original recipes that are immortalized on the menu of the general store's restaurant.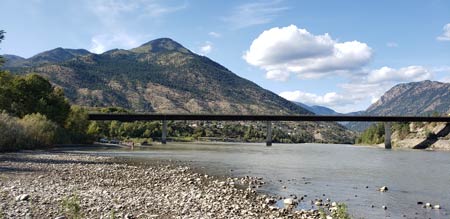 Looking for a one-on-one with the great outdoors? Visit nearby Bowron Lake Provincial Park in the heart of the Cariboo Mountains. Only 28 kilometers away, this 120 thousand hectare paradise is made up of mountains, forests and a system of 9 lakes all connected by waterways for a combined total distance of 116 kilometers. Now that's a canoe trip! Just give yourself 5-7 days if you plan on tackling it. If time doesn't permit, the west side of the chain from Bowron Lake to Spectacle Lake make for a fabulous couple of days, as does the excursion down to Lake Unna, home of the breathtaking 80-foot Cariboo River Falls.
But some visitors have different plans… Always dreamed of tracking deer, mountain goats, moose and even Grizzly bears through some of Canada's wildest terrain? Local outfitters and guides have everything you need to make this fantasy come true. Of course, many of you don't visit for the big game hunting. That's why the North Cariboo-Chilcotin has a calendar of fantastic festivals that provide fun for the whole family. June's Highland Games feature Scottish games, pipe bands and dancing as the area celebrates its local Scottish heritage. In August, the Quesnel Fall Fair brings logger sports, agriculture and 4H together while Billy Barker Days, one of the top 3 family festivals in BC, showcases music, dancing, carnival rides and the province's largest amateur rodeo. Check out the North Cariboo-Chilcotin. It's solid gold!
South Cariboo Chilcotin British Columbia
Welcome to the South Cariboo Chilcotin…Big Sky Country.
Welcome to the South Cariboo-Chilcotin, Canada's authentic Wild West experience!
Bordered by the Quesnel River and the Cariboo Mountains, this region of central British Columbia is sparsely-populated ranch country. But in the nineteenth century, it thrived as thousands of hopeful prospectors forged north, following rumors of massive gold deposits – and they weren't disappointed. The Gold Rush, as it came to be known, was an important time in the colonization of British Columbia. Today, the area is still popular only now, prospectors have been replaced by tourists. And considering the beauty of this wide open country, it's easy to see why.
Technically, the Cariboo-Chilcotin Coast is divided up into 3 areas: The Cariboo, once home to the biggest Gold Rush in history; The Chilcotin, comprised of acres of rolling ranch lands; and The Coast which includes 15 thousand kilometers of beautiful, rugged coastline that serves as home to the rare Kermode or Spirit bears. Primarily accessible from Highway 24 (named The Fishing Highway for reasons obvious to any angler), this area is peppered with towns, many that were birthed from necessity as early settlers traversed the Gold Rush Trail in search of their fortunes. These communities include 70 Mile House, Green Lake, 100 Mile House, 108 Mile House, Canim Lake, Forest Grove, Clinton, Lac La Hache, Timothy Lake and Lone Butte.
The winters here are long and cold, which suits the droves of avid winter sports enthusiast who enjoy all that the snow-covered South Cariboo-Chilcotin has to offer. From family-oriented ski hills to heli-boarding, the downhill scene has something for everyone. Skate on a frozen lake; cut a hole in the ice and try your luck with the fish; strap on some snowshoes; hire a dogsled team and explore the back country; hire a horse and discover the Fraser Canyon… It only makes that crackling fire, steaming cocoa and bubbling Jacuzzi all the more enjoyable at day's end!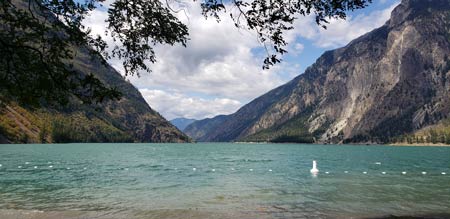 Summers in the South Cariboo-Chilcotin bring with them an endless array of outdoor exploring opportunities as well. West from 100 Mile House, the Fraser River offers thrilling whitewater rafting tours as well as close-ups of some of the most amazing erosion-induced natural formations in the province, from towering hoodoos and spires to flatlands. Nature comes in even more breathtaking forms south of Clinton where volcanic activity and glacial melt water has formed a stunning 120 meter box canyon – Canada's answer to its famous Arizona counterpart. To the east, hundreds of lakes sit against the Cariboo Mountains. And while the swimming, boating and canoeing are fantastic, it's the fishing that makes the area famous. Now, imagine doing all this on horseback… While cursory activities such as hiking, biking and ATV-ing are readily available, this is cattle country. To come all the way out here and not saddle up would be a tragedy. Guest ranches across the region cater to riders of all skill levels, from city-slicker to Marlboro man.
That's what really sets the South Cariboo-Chilcotin apart from anywhere else in BC: the cowboy culture. Generations of ranchers have been riding these high plains since BC's early settler days and it's this Wild West spirit that lives on in the rugged, windswept faces of the locals. There's no better way to explore the meadows, grasslands, lakes and forests of this region than from atop your own trusty steed. Looking for more than a day-long lark playing cowboy? Many working ranches are happy to wrangle a little extra work out of eager and curious visitors. Make a few days of it and see what you're made of, Greenhorn!
Somewhat surprisingly, the arts are alive and well in the South Cariboo-Chilcotin, with festivals, shows, exhibits, even theatrical productions providing entertainment of a caliber that any big city would be proud of. Some of the more popular events and entertainment include Scottish Highland Dancing, choral groups, First Nations pow-wow festivals, Oktoberfest celebrations, live musical performances and even medieval re-creationist events. The area is rich with galleries as well as arts and craft shops too. Some of the most amazing and intricate First Nations art can be discovered with a visit to the Canim Lake Band Cultural Centre.
With its great expanses of land, it's no surprise that the South Cariboo-Chilcotin also offers amazing golfing. Don't let the region's rough, weather-worn terrain fool you. The clubs up here brag beautiful contoured fairways, perfectly manicured greens and all the extras including a driving range, practice green, lessons, pull carts, power carts, clubs and accessories. The popular 18-hole CPGA championship course set on the Cariboo Hills provides 6,800 yards that generate as much enjoyment for the novice as for the pro while the quaint 9-hole course in 100 Mile House tests the finesse and judgment of any golfer.
Mount up, partner. The South Cariboo-Chilcotin is waiting!

Contact
Have a property you'd like to list?
EMR Vacation Rentals is always looking for additional high quality properties to add to our inventory. Drop us a line, let's chat about how we can help you!
Testimonials
What Our Guests
Say About Us

Pendray House
The house was great! Initially there were some issues with the alarm, but once that was resolved, it was excellent! The location is great! It was quiet, peaceful, and clean.
Lindal Home Sidney B.C.
Over all the house was great.We spent time in Sidney as well as Victoria and all the way yo Cambpell River. We went Whale watching ,caving,fishing,attended the fire works in Victoria. Lots of fun. See you next time.

A Fun Getaway
Lovely setting, nice clean house with lots of personal touches that made it cozy & comfortable. Lots of interesting books, and games, great outdoor space. Hope to come again soon.