About Victoria BC
Victoria | Greater Victoria | Sooke | Sidney | Shawnigan Lake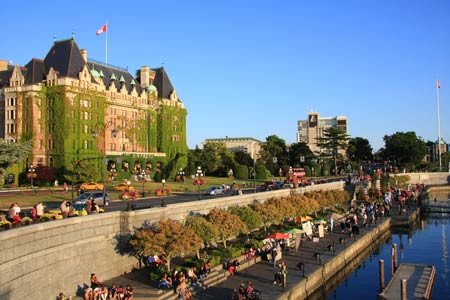 Victoria, British Columbia, is known internationally as The Garden City of Canada. When you arrive in this exquisite place you will quickly realize that the gardens, parks and flowers that abound here are only scratching the surface of the joy and beauty that awaits you in Victoria, British Columbia's capital city. Situated on the sheltered side of the Southern tip of Vancouver Island, Victoria, BC, boasts a downtown core reminiscent of Europe and steeped in old English charm. As the city is situated on the Juan de Fuca Strait and faces the Olympic Mountains in Washington State, everywhere you look there are either beautiful ocean or stunning mountain views.
Victoria, BC, boasts an amazing climate found only on the west coast of Canada. Our temperate climate of mild year-round temperatures provides a perfect medium for the green lush gardens you will experience here. In the atmosphere of Victoria's old world charm and European flair, there are excellent services to be found, which include some of the best dining in Canada, both modern and old world pubs, famous locations for afternoon teas, excellent indoor and outdoor shopping, and a host of fresh-air activities. Victoria, B.C., is the ultimate destination whether you are a honeymooner, a family, retiree or just looking to get away to a very clean and safe city in the Pacific North West.
Victoria, British Columbia, is such a spectacular vacation destination that it has won many travel-related awards. Here are just a few of those rewards:
#1 Victoria Best City in the Americas – ("Conde Nast Travel Magazine" 2003/2004)
#1 Vancouver Island top North American Island – ("Conde Nast Travel Magazine" 2003/2004)
#1 Best Temperate Island Destination in the World – ("Conde Nast Travel Magazine" 2002)
#1 Best Island in Continental USA/Canada – ("Travel & Leisure Magazine" 2002, 2001 Awards)
#1 Environment and Ambiance in the World – ("Conde Nast Travel Magazine" 1999)
#3 Top 10 Islands in the World – ("Travel & Leisure Magazine" 2001 Awards)
Victoria, British Columbia, has many special and endearing qualities that set it apart from other cities in Canada and the rest of the world. For one, as part of its downtown core it boasts the world-famous Inner Harbour, complete with the Royal British Columbia Museum, the historic ivy-covered Empress Hotel, the B.C. Legislative Building, as well as theatres, galleries, restaurants, gardens and parks. A short drive or beautiful walk through impressive turn-of-the-century architecture of the downtown core, you will find yourself in James Bay and on the edge of the Juan de Fuca Strait. Views of the ocean and the Washington State's Olympic Mountains abound.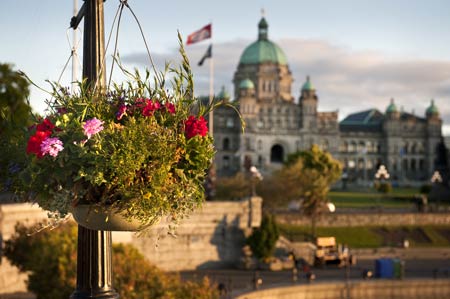 After dark, Victoria, BC, becomes a magical place, with spectacular views of breathtaking boats in the Inner Harbour, the lights of the Legislative building, and many of the beautiful sights to be seen lit up in nighttime displays. The romantic appeal only increases as you wander along clean and safe cobblestone streets. Stop in to enjoy one of the many excellent cafes, quality bistros, and haute cuisine restaurants with something on the menu for everyone. Be sure to also sample one of the many excellent seafood restaurants this ocean-front city has to offer.
Adding to the old English charm of Victoria, British Columbia, are city lamp posts adorned with hanging flower baskets, London-style double decker buses, old English-style horse-drawn carriages available for tours of the city, shops filled with British imports and Harris Tweed, and afternoon teas at many of the cities highest regarded tourist spots.
Victoria, BC, has also retained some of the rich culture of the First Nations, who inhabited the area for thousands of years before the British settlers arrived. The Royal British Columbia Museum is home to a world-class collection of native cultural and spiritual artifacts, many of which can only be appreciated in Victoria, BC, and nowhere else in the world. Many of the collections have been hidden from public view for many years and are only now available for viewing by the general public. As well as the rich heritage preserved in the Royal British Columbia Museum, Beacon Hill Park contains the world's tallest free-standing totem pole, which was erected in 1956 by renowned Kwakwaka'wakw artist Mungo Martin, Thunderbird Park next to the Royal British Columbia Museum contains many beautiful totems and native-style buildings which are easily photographed, and many of the cities galleries and shops contain items from Native artisans available for purchase so you can take a bit of the rich heritage home.
Victoria, British Columbia, was established in 1843 by Sir James Douglas as a Hudson's Bay Company Fort. As the gold rush began at the turn of the century, Victoria, BC was be quickly shaped into one of the major supply ports for the thousands of prospectors travelling to Alaska and the Yukon. This gold mining history is reflected in the architecture of many of the downtown buildings and landmarks which include historic Market Square, where quaint little shops and some of the cities best restaurants inhabit a restored 19th-century courtyard made modern by beautiful renovations. There is also Bastion Square, where visitors can find artisans and street vendors with an excellent selection of quality gifts and knickknacks. Trounce Alley has more excellent shops and restaurants and on Sundays in summer, Government Street has a lively public market complete with everything you might want to buy from clothing to fresh produce.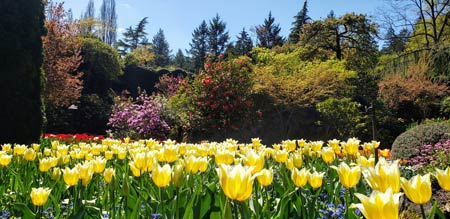 If you are looking for adventure, Victoria, BC has a vast selection of activities. Whether you are just looking for a quiet day out in a tour boat, wanting to do some sea kayaking or scuba diving, hoping to see some whales or do some of the best fishing on the west coast, Victoria, British Columbia, has it all. Victoria also has a complex network of hiking and biking trails that wind through lush forests and along wind-swept beaches of the Pacific all the way to the Sooke Mountains. The Galloping Goose, as it is known, is a section of the trans-Canada trail which can provide you with hours of cycling or hiking enjoyment.

Contact
Have a property you'd like to list?
EMR Vacation Rentals is always looking for additional high quality properties to add to our inventory. Drop us a line, let's chat about how we can help you!
Testimonials
What Our Guests
Say About Us

Pendray House
The house was great! Initially there were some issues with the alarm, but once that was resolved, it was excellent! The location is great! It was quiet, peaceful, and clean.
Lindal Home Sidney B.C.
Over all the house was great.We spent time in Sidney as well as Victoria and all the way yo Cambpell River. We went Whale watching ,caving,fishing,attended the fire works in Victoria. Lots of fun. See you next time.

A Fun Getaway
Lovely setting, nice clean house with lots of personal touches that made it cozy & comfortable. Lots of interesting books, and games, great outdoor space. Hope to come again soon.