Thompson Shuswap British Columbia – The Lake Country
Welcome to the Thompson Shuswap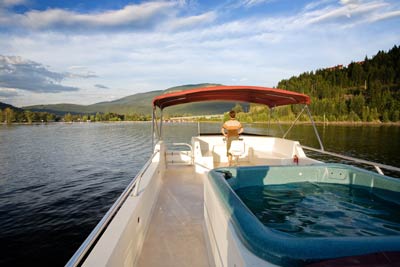 Also known as the Shuswap Highland, the Thompson Shuswap is the transitional area that includes British Columbia's foothills and the southwest lowlands that exist between the interior plateaus and the mountains of the Monashee and Cariboo Ranges.
Settled by European fur traders and miners, this favourite Western Canada tourist destination is home to literally thousands of lakes, rivers, mountains and valleys. Whether ranchlands, wetlands or estuaries, this part of the province provides some of the most magnificent scenery on the continent and is home to the Adams River (which travels through Haig Brown Provincial Park) and the Thompson River (which travels southwest through Lytton). Thompson Shuswap is also home to an amazing assortment of wildlife. A visit here is sure to include sightings of elk, deer, bald eagles, osprey and even bears! And with climates ranging from sub-alpine in the mountainous regions to semi-arid in the lake-district, the area offers the opportunity for amazing activities both summer and winter.
The Thompson Shuswap's beaches are some of the most celebrated in British Columbia. Shuswap Lake is famous for having the largest houseboat community in Canada. Tunkwa Lake has been home to the World Fly Fishing Championship while Kamloops and Nicola Lakes are also known for their amazing fishing and camping. Whether you're looking for remote getaways or popular party-beaches, white sand or pebbles, tanning or water-skiing, there's a piece of warm sand with your name all over it. Many of the commercial beaches feature family-friendly facilities including restrooms, playgrounds, concessions, barbeque pits and even watersport rentals. The most popular sandy beaches are on Paul Lake, the Thompson River and Shuswap Lake, which features such favourite haunts as Narrows Village Beach, White Lake, Sicamous Sands Public Beach Park, Shuswap Lake Provincial Park and Herald Provincial Park. And with its unique H-shape consisting of two developed arms (Main Arm and Salmon Arm) and two undeveloped arms (Anstey Arm and Seymour Arms) and over 1,400 kilometers of beaches, bays, parks and coves, you're not likely to be disappointed.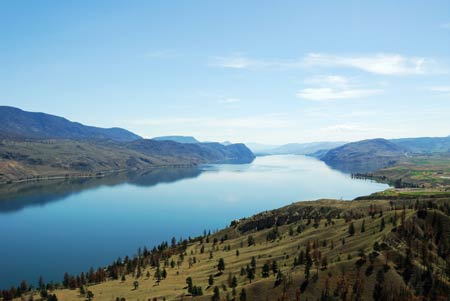 The Thompson Shuswap has some of the most scenic hiking trails in the province as well. Whether daytripping on one of the short trails or planning an extended adventure through the BC wilderness, wilds, wetlands and waterfalls of the region make every trek a worthwhile journey. Enjoy the breathtaking beauty of Kamloop's Lake Shore Trail, Cache Creek's Marble Canyon Trail, the Sicamous Creek Trail or the White Lake Lookout Trail. Or for multi-day excursions, experience the Peterson Creek Trail, the 26 kilometers of the Roderick Haig Brown Provincial Park or the 45 kilometers around Strake Lake.
Mountain bike enthusiast can find their own personal heaven here, as well with backcountry trails abounding in the area. Some feature pure wilderness while others include downhill runs, ramps and jumps. A favourite is The Bike Ranch and BMX Track located in Kamloop's McArthur Park. Some of the more popular routes include Merritt's Hogsback Trail, Logan Lake's Greenstone Mountain Trail and Shuswap Lake's Simms Creek Bike Loop.
The winter season brings a different brand of activity choices – the snowy kind. Skiing and snowboarding are extremely popular pastimes for visitors and locals alike with Sun Peaks acting as the centre of the action. Only a forty-five minute drive from Kamloops, this resort is the second largest of its kind in the province and one of the oldest (40 years in operation). And with 3,678 acres of skiable terrain covering 3 peaks and including 122 runs, it's easy to see why this is a favourite with snow-addicts everywhere.
Winter provides new means of transportation, too. Almost every neighbourhood in the Thompson Shuswap region enjoys a network of snowmobile trails. Credit the expansive terrain along with the liberal dose of snowfall that the area receives yearly for turning this piece of the province into some of the best snowmobile country on the continent. Tour companies provide everything from fast-paced adventures to family-oriented lessons. Helmer Lake, Swakum Mountain, Skimkin Creek, Tod Mountain, Cicero Creek and Mount Bob all have fantastic snowmobile services, and that's just touching the surface. In particular, the community of Logan Lake has a fantastic network of trails that circle Face Lake, Paska Lake and Leighton Lake, known as the Logan Lake Snowmobile Routes.
Snowshoeing is another favourite activity, many of the popular routes being shared with the large population of avid cross-country skiers who also flock to the area or doubling as the area's hiking trails come summertime. Groomed or wild, there's acres of backcountry that's waiting for your fresh tracks. For some of the best, visit Lake Shore Loop, Lac Le Jeune Routes and Harper Mountain Ski Area.
Thompson Shuswap isn't like any other part of British Columbia. But you're going to have to visit to really find out.

Contact
Have a property you'd like to list?
EMR Vacation Rentals is always looking for additional high quality properties to add to our inventory. Drop us a line, let's chat about how we can help you!
Testimonials
What Our Guests
Say About Us

Pendray House
The house was great! Initially there were some issues with the alarm, but once that was resolved, it was excellent! The location is great! It was quiet, peaceful, and clean.
Lindal Home Sidney B.C.
Over all the house was great.We spent time in Sidney as well as Victoria and all the way yo Cambpell River. We went Whale watching ,caving,fishing,attended the fire works in Victoria. Lots of fun. See you next time.

A Fun Getaway
Lovely setting, nice clean house with lots of personal touches that made it cozy & comfortable. Lots of interesting books, and games, great outdoor space. Hope to come again soon.