Short and Long Term Rentals
Seattle Washington Vacation Rentals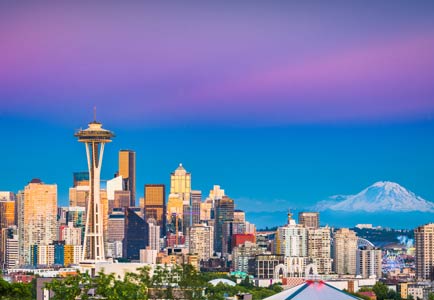 EMR Vacation Rentals is happy to offer our valued guests the ability to book a vacation to the Seattle area via our Stays Group Partner: Seattle Vacation Home. They provide visitors the same excellent service you have come to expect when you #BookDirect with our other Stays Group Partners.
Get expert recommendations of things to do and places to visit in the area from your local, professional vacation rental team at Seattle Vacation Home. These local professionals know the area well and are there to direct you to the best activities, events, restaurants, shopping, bars and more.
Seattle has long been known for its diverse, rich culture and abundance of things to see and do. As a bustling hub of the Pacific Northwest, you can find all of the typical urban activities and things to experience. But Seattle isn't just an urban destination, as it is in close proximity to some amazing outdoor adventures, as well.
The city of Seattle is alive and electric, with a sizzling music scene that has birthed some of the most renowned bands and artists (think Nirvana, Pearl Jam, Hendrix, and more). You'll also find that it's a famous destination for foodies. The city's Pike Place Market is a must-see, and is a definite stop on your itinerary. With its many restaurants, food markets, retail stores, and events it is a great way to spend a day. And guests to the area will find world-class restaurants and nightlife, as well.
You can hop around town on the city's monorail, a scenic above-ground train, that transports visitors all around the city for a modest fee. You can see sites like the Seattle Center (home of the 1962 World's Fair), Westlake Center, Space Needle, the Pacific Science Center, and more.
No trip to Seattle would be complete without a stop at the Space Needle. It opened to the public in 1962, and oddly enough the spaceship design was first sketched on a napkin by Edward Carlson, the chief organizer of the World's Fair. Approximately 1.3 million guests visit the Space Needle each year, and almost 60 million visitors have visited since its opening. It offers unforgettable 360-degree views of both the city and the rugged Pacific Northwest landscape, including Mount Rainier.
If the outdoor adventures are more your style, Seattle lies in close proximity to some amazing opportunities. It's just a short drive from Puget Sound, Lake Washington, the Olympic Mountains, and Mount Rainier. Visitors can find world-renowned whale watching, as well as hiking, biking, skiing, paddleboarding, kayaking, and more.
Seattle Vacation Home offers guests many options to choose from for your stay. From the family-friendly homes and townhomes of Madison Valley and Columbia City, to hip urban areas like Fremont and Capital Hill, you'll find exactly what you are looking for. And you can rest easy, knowing you've taken advantage of the Best Rate Guarantee from our Stays Group Partners. So browse and book your Seattle stay with Seattle Vacation Home today!
Be sure to mention EMR Vacation Rentals to receive the Best Price Guarantee

Contact
Have a property you'd like to list?
EMR Vacation Rentals is always looking for additional high quality properties to add to our inventory. Drop us a line, let's chat about how we can help you!
Testimonials
What Our Guests
Say About Us

Pendray House
The house was great! Initially there were some issues with the alarm, but once that was resolved, it was excellent! The location is great! It was quiet, peaceful, and clean.
Lindal Home Sidney B.C.
Over all the house was great.We spent time in Sidney as well as Victoria and all the way yo Cambpell River. We went Whale watching ,caving,fishing,attended the fire works in Victoria. Lots of fun. See you next time.

A Fun Getaway
Lovely setting, nice clean house with lots of personal touches that made it cozy & comfortable. Lots of interesting books, and games, great outdoor space. Hope to come again soon.