The Okanagan Valley British Columbia
The Okanagan | Big White | Sun Peaks
Welcome to The Okanagan – From Pinot Gris to Apres Ski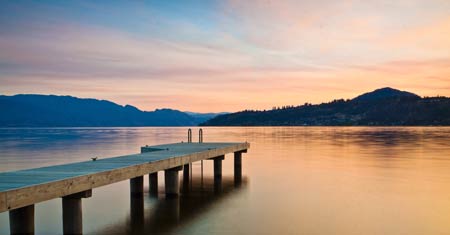 The Thompson Okanagan or Okanagan Valley as it is most commonly referred to, is a region of British Columbia surrounding the Okanagan Lake Basin and the Okanagan River.
The province's high and dry country, this region is a popular tourist destination. While visitors from all over the globe flock to cities and towns like Vernon, Kelowna, Penticton and Osoyoos for the lakes, camping and various other regional attractions, there are two factors that make the Okanagan a one-of-a-kind destination: the amazing wine and the amazing skiing. Here lies a magical land whose climate, not only produces excellent winter snow for the local ski hills, but is also perfectly suited for grape growing. You'll recognize some of the local labels such as: Sumac Ridge, Jackson Triggs, Inniskillin, and Black Hills.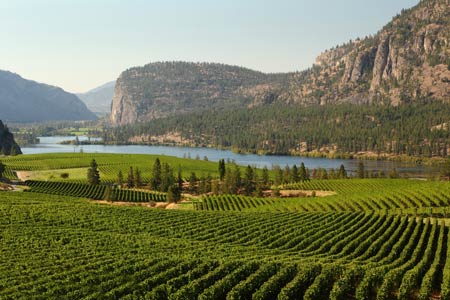 The burgeoning British Columbia wine industry can be categorized by region with Vernon, Winfield and Oyama in the North Okanagan, Kelowna, Westbank and Peachland in Central Okanagan and Summerland, Penticton, Naramata, Oliver and Osoyoos in South Okanagan. With so many wineries and vineyards spread over such an expansive area, it only figures that there are several ways of experiencing the products of these sun-drenched rolling hills. Every year, thousands of self-styled aficionados come for some of the most reputable wine festivals on the planet. The 10-day October affair that is the Fall Wine Festival is by far the largest of its kind but the Ice Wine Festival in January, the Spring Wine Festival in May and the Summer Wine Festival in August are no less impressive. If you're feeling independent and adventurous, most visitor centres carry maps and brochures to assist you in your self-guided tour. For some very reasonable fees, professionally organized tours can provide some unforgettable experiences. Whether you're there for the tasting, the techniques, the vineyards or a tasty souvenir from the gift shop, the Okanagan Valley has it all.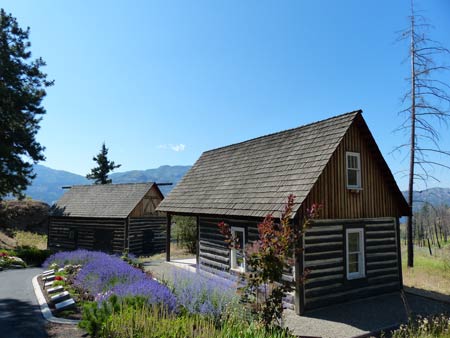 Okanagan Wine Country Tours provide amazing tours of over 60 of the Okanagan's award-winning wineries. From small estates to large international operations, you can enjoy the beauty and magic of the wine making industry from the comfort of a customized luxury vehicle as professional guides bring you the stories of the grapes that have made this area famous. Some favourite tours include The Sampler, which includes a visit to three area wineries as well as a non-inclusive lunch stop. The Daytripper offers jaw-dropping views of the famed Golden Mile of wine country and a non-inclusive lunch at Burrowing Owl Vineyards as well as tours of 8 to 9 of the area vineyards. Hands down, their most unique tour is the Float Plane Tour departing from Lake Okanagan in Kelowna. Keep your camera handy as the small plane follows the lakes and mountains to the southern end of the valley, landing on the sandy shores of Osoyoos Lake where a personal guide will take you via luxury vehicle to various wineries as you leisurely make your way back to Kelowna.
For the more active visitors, Monashee Adventure Tours offer cycling wine tours including the Orchard to Winery Tour, starting with a wagon tour at Kelowna Land & Orchard (KLO) and then a 22 kilometer back-road cycle to Summerhill Winery.
Mother Nature does something amazing in the Okanagan besides grow amazing grapes. She also produces pretty awesome snow. High-pressure areas over the Pacific Ocean transport cold air southward to the Canadian Rockies creating a rare combination of feeder and seeder clouds resulting in Champagne Snow, some of the finest and rarest powder in North America. A handful of fantastic hills and alpine resorts enjoy this meteorological luxury…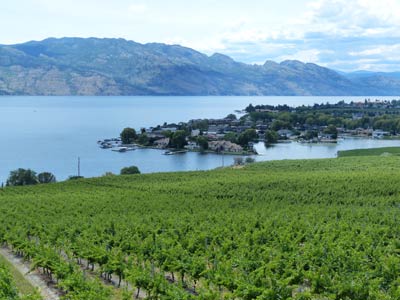 Just a short drive from Kelowna, Big White boasts over 27 thousand acres of ski-able terrain with 118 runs, 5 alpine bowls, 16 lifts, a tubing park, skating rink, cross-country trails, snowshoeing wilderness and snowmobile tracks. Apex Resort is only a 35-minute drive from Penticton and offers 1,112 acres of ski-able terrain, a half-pipe, 4 lifts and a vertical drop of 610 meters. Silver Star in Vernon has pipes and parks and a 762 meter vertical drop serviced by 11 lifts. Mt. Baldy in Oliver has a vertical drop of 577 meters and comes equipped with all the bells and whistles including 17 runs and 2 lifts. Even the diminutive Crystal Mountain features 3 lifts and 21 runs on 198 meters of vertical drop. And of course, Sun Peaks, just 45 minutes from Kamloops, has 3,678 acres of ski-able terrain that covers 3 mountains and includes 122 runs! From alpine bowls to blue and green cruise runs to steep and deep powder runs, this resort has everything you could want to aim your skis at, whatever your skill level. Starting to get the idea?
Whether you're wining and dining, hurtling down the side of a mountain or doing anything in between The Okanagan Valley won't disappoint. Check it out!

Contact
Have a property you'd like to list?
EMR Vacation Rentals is always looking for additional high quality properties to add to our inventory. Drop us a line, let's chat about how we can help you!
Testimonials
What Our Guests
Say About Us

Pendray House
The house was great! Initially there were some issues with the alarm, but once that was resolved, it was excellent! The location is great! It was quiet, peaceful, and clean.
Lindal Home Sidney B.C.
Over all the house was great.We spent time in Sidney as well as Victoria and all the way yo Cambpell River. We went Whale watching ,caving,fishing,attended the fire works in Victoria. Lots of fun. See you next time.

A Fun Getaway
Lovely setting, nice clean house with lots of personal touches that made it cozy & comfortable. Lots of interesting books, and games, great outdoor space. Hope to come again soon.