Sunshine Coast British Columbia – Beachcombing 101
Welcome to the Sunshine Coast
Accessible only by public ferry, plane or 6-day hike, the Sunshine Coast offers a rare kind of privacy and isolation… especially considering its location, only an hour northwest of Vancouver, British Columbia.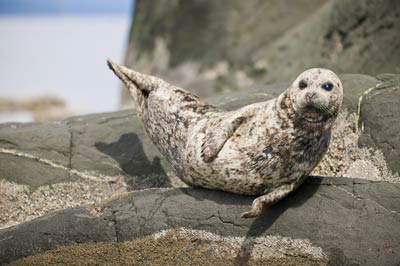 The Lower Coast, as it is commonly called, is accessible via a 40-minute ferry ride from Vancouver's Horseshoe Bay ferry terminal and is only 4 hours from Seattle, Washington. Whether day-tripping from the city or getting away for an extended stay, this mainland coastal paradise on the glimmering Strait of Georgia is one of the most tranquil, beautiful vacation destinations in the province. The Sunshine Coast is made up of several distinct and equally charming communities: Gibsons (including Langdale, Gibsons Landing and Upper Gibsons), Roberts Creek, Davis Bay, Sechelt, Madeira Park and Egmont as well as idyllic destinations such as Halfmoon Bay, Redrooffs, Thormanby Island, Pender Harbour, Earl's Cove, Nelson Island, Westview, Powell River, Cranberry/Wildwood, Lund and Texada and Savary Island.
Known for its artistic spirit, the area hosts several cultural events throughout its calendar including the Festival of the Written Arts, the Hackett Park Craft Fair and the Fibre Arts Festival, with numerous other smaller shows and exhibitions made popular thanks to the Coast Cultural Alliance. In fact, a thriving industry of galleries, curiosity shops and antique stores pepper the area, lending to this coastal area's quaintness. Of course, seaside restaurants, bars and bistros also abound, providing romantic ways to enjoy some of the most beautiful sunsets on the West Coast.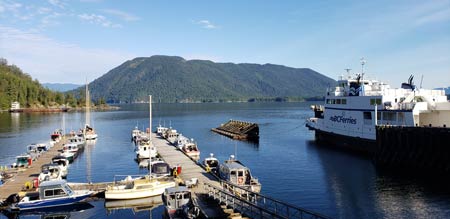 Naturally, the area is somewhat of a mecca for recreational enthusiasts, visitors coming from near and far to enjoy all that the Sunshine Coast has to offer… water sports are extremely popular, from sea kayaking to scuba diving. The biking and hiking trails provide some of the most beautiful wilderness the planet has to offer (take on the Sunshine Coast Trail!) and the fishing rarely disappoints, whether you're a fresh or saltwater expert. Beachcombing is a favourite area pastime, but air and boat tours are available if you want to take your exploring to the next level!
Experience the Powell Forest Canoe Route, brave the Skookumchuck Rapids, navigate the Princess Louisa Inlet… Here's a taste of what the Sunshine Coast has to offer:
Gibsons Landing was the location of the 1970's hit TV show, The Beachcombers. A postcard-perfect harbor town, its many highlights include Molly's Reach Restaurant, a lunch experience you'll remember as much as the afternoon spent browsing the labyrinth that is Molly's Lane Market. Stroll down the rustic wooden pier and buy fish right off the boats! Meander along the waterfront path, past ancient sea-weathered cottages. Enjoy the surprisingly wide assortment of dining establishments… There's a natural beauty and easy pace here that makes Gibsons Landing a far easier place to come to than to leave.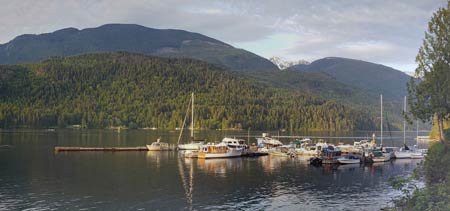 Robert's Creek or The Creek as the locals lovingly refer to it, has the slow-paced charm of Gibsons Landing with a New Age twist. This environmentally conscious community has a distinct lack of automobiles, many of the townsfolk walking or cycling to get around. Home to numerous artists and artisans, the galleries overflow with the work of local talent. There's a lovely beach here, too (but only at low tide) with a naturalized, wheelchair accessible pier. And for those who want a closer look at the Strait of Georgia, kayak rentals are popular and readily available. And check out the Gumboot Café in the centre of town for a charming juxtaposition of vegetarian lifestyle and conventional dining…
Davis Bay is traditionally a cottage community although it also boasts some of the best beachcombing and swimming in the region. The old wooden pier is an area landmark, as is the bustling Pier 17 Market with its impressive mural map of the coast. Culinary choices are again in surprising abundance with choices ranging from sushi bars to fish'n'chip shops to tearooms. Keep your eyes open for gifts to take home as numerous traders hawk their unique wares throughout the season. Davis Bay has something for every season, whether the summers' kite and sandcastle competitions or the winters' New Years Day polar bear swim.
The relaxed town of Sechelt is serviced by float planes that leave Porpoise Bay government dock for both Vancouver and points on Vancouver Island. It is a busier community by area standards but is the ideal place to stock up on groceries, do some shopping or even catch a movie. And with a great choice of restaurants, bars and cafes, your evenings here promise to be good, as well. Fan of the fresh air? Stroll through the natural sanctuary of Snickett Park with its glorious First Nations totems.
Visiting the towns along the Sunshine Coast, one thing becomes apparent: each is unique and magical unto itself – something you have to find out for yourself!
British Columbia's Sunshine Coast – it is as good as it sounds.

Contact
Have a property you'd like to list?
EMR Vacation Rentals is always looking for additional high quality properties to add to our inventory. Drop us a line, let's chat about how we can help you!