Mount Washington British Columbia
Vancouver Island | Cowichan Valley | Mount Washington | Chemainus | Parksville | Nanaimo | Tofino | Courtenay Comox Valley
Welcome to Mount Washington – Downhill, Up Island
For 30 years, Mount Washington has been Vancouver Island's answer to alpine recreation, attracting skiers and snowboarders from all over the world.
Located on the Eastern fringes of British Columbia's Vancouver Island Ranges, the resort is approximately a 3-hour drive north of Victoria, only 25 kilometers west of the Comox Valley and Courtenay. Mount Washington is famous for its ocean and alpine vistas. Weather permitting; the Sunshine Coast on the Strait of Georgia is visible from Powell River to Sechelt while the other direction provides an eagle's eye view of Strathcona Provincial Park and the peak of Forbidden Plateau. But this destination is also famous for the sheer volume of snowfall it receives annually. Often the deepest in the province, it has even held the title worldwide once… something anyone who clicked into a pair of bindings late in the 1995 season can attest to! (over 21 feet of snowpack) But whatever the year and whatever the snowfall, Mount Washington enjoys a season that runs from early winter to Easter. It's easy to see why this destination ranks a close second just behind Whistler for the title of busiest alpine resort in the province.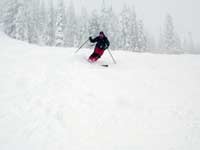 With 60 runs, a high-speed quad chair (the new Eagle Express), a fixed-grip quad, 2 triples, a double, a platter, a rope-tow and a vertical drop of over 500 meters, the possibilities are endless. Getting there couldn't be easier, too. Once in Courtenay, the 31 kilometer route west of Highway 19 is almost always easy to navigate with the right tires or chains. And for those a little squeamish behind the wheel, shuttle buses run regularly from several hotels in Courtenay. Making the journey over from the mainland? A 75 minute ferry ride from the Vancouver side will put you within a snowball throw's distance of the shuttle buses or the mountain road. And of course, visitors from further afield can drop in to Comox Valley Regional Airport, courtesy of 3 major carriers.
Interestingly enough, there a specific population of locals who, despite their rare appearances, have made this mountain famous for other reasons. The Vancouver Island Marmot is one of the planet's most endangered species with a population of less than 100, about 30 of those being breeding females. With the assistance of The Marmot Recovery Foundation, this housecat-sized member of the squirrel family still has a fighting chance! Visitors share this area with other, more noticeable wildlife as well. A day spent cross-country skiing through the glorious Vancouver Island backcountry will prove that. The Strathcona Provincial Park trail system, particularly the aptly-named Paradise Meadows provide a fantastic launch-point for longer winter camping excursions to Battleship Lake and Lake Helen MacKenzie. Looking to really break a sweat? Over 12 kilometers of snowshoeing trails extend from the comfort of the Mount Washington day lodge. Rentals are available at the lodge.
Mount Washington is just as appealing in the summer months too. Mountain bikers can find their adrenaline rushes descending the nerve-rattling trails while scenic chairlifts and hiking trails provide visitors with a one-of-a-kind mountain meadow experience. Even those comfortable on horseback can enjoy sightseeing from the saddle. Imagine the warm mountain sun above, your trusty steed below and a jaw-dropping panorama of the Comox Glacier, Mount Albert Edward, the Strait of Georgia, Courtenay, Comox, Cumberland and Campbell River…
The beauty of Mount Washington's location is the accessibility it offers to the neighbouring central east coast townships. Ski chalets aren't your thing? Many visitors wishing to experience more than simply the mountain opt for accommodation in nearby Cumberland, Courtenay, Comox, Merville, Black Creek, Saratoga Beach and Campbell River. The urban centre of the Comox Valley, Courtenay is set amongst some of the island's most idyllic farming country; the neighbouring town of Comox is the quintessential Vancouver Island fishing village; Merville is small but welcoming town in the north end of Comox Valley; just 16 kilometers north of Courtenay, Black Creek is a cradle of fruit orchards and dairy farm, living tribute to the Russian Mennonite immigrants who first settled this old logging camp location; Saratoga Beach at the mouth of the Oyster River, boasts miles of sandy beaches and tides that go out for over a quarter mile; Campbell River at the south end of Discovery Passage is a growing tourist town and soon-to-be cruise ship destination point… and all this is still just a short drive from the ski slopes.
Mount Washington is more than just skiing. It's unstrapping the snowboard for a mild round of golf in the afternoon. It's stepping out of the skis onto some of the West Coast's most beautiful beaches. It's taking off the snowshoes and going apple-picking. It's people, places… the mid-island at its most magical. It's worth a visit!

Contact
Have a property you'd like to list?
EMR Vacation Rentals is always looking for additional high quality properties to add to our inventory. Drop us a line, let's chat about how we can help you!
Testimonials
What Our Guests
Say About Us

Pendray House
The house was great! Initially there were some issues with the alarm, but once that was resolved, it was excellent! The location is great! It was quiet, peaceful, and clean.
Lindal Home Sidney B.C.
Over all the house was great.We spent time in Sidney as well as Victoria and all the way yo Cambpell River. We went Whale watching ,caving,fishing,attended the fire works in Victoria. Lots of fun. See you next time.

A Fun Getaway
Lovely setting, nice clean house with lots of personal touches that made it cozy & comfortable. Lots of interesting books, and games, great outdoor space. Hope to come again soon.