About Victoria BC
Victoria | Greater Victoria | Sooke | Sidney | Shawnigan Lake
Victoria, BC – also known as The Garden City – is a charming city located on the southern tip of Vancouver Island, Canada. With its rich history, picturesque landscapes, and vibrant culture, this Canadian gem on the beautiful Vancouver Island is a must-visit destination in British Columbia!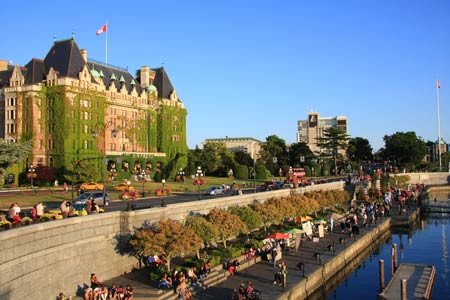 History
As the capital city of British Columbia, located on the southern tip of Vancouver Island, Victoria holds a significant place in Canadian heritage. Long before European settlers arrived, the region was home to indigenous First Nations communities who thrived on the abundant resources of the West Coast. However, it was British explorer James Douglas who established the Hudson's Bay Company trading post in 1843, laying the foundation for Victoria's future development as an English settlement. The city's natural history also played a vital role in its growth, with its strategic location on the Pacific coast facilitating trade and transportation across North America. Over the years, Victoria has evolved into a vibrant metropolis that beautifully blends its First Nations roots with English influences, making it a truly unique and culturally diverse destination.
Areas in Greater Victoria
While Victoria and Greater Victoria are often used interchangeably, Greater Victoria is the area that encompasses all the neighbourhoods and areas from the west to the east on the south tip of Vancouver Island. Whether you prefer the energy of city life or the serenity of oceanfront living, Greater Victoria has a neighbourhood to suit every taste!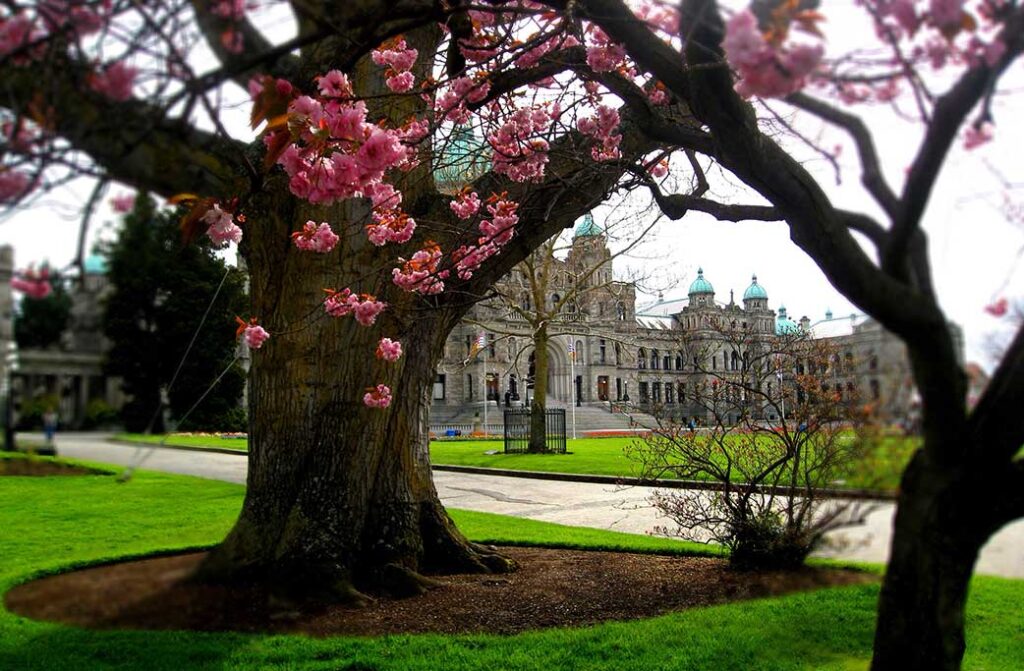 At the heart of Greater Victoria, lies Victoria which encompasses everything from downtown to the borders of Oak Bay and Saanich. This area is a captivating blend of past and present with historic architecture gracefully intertwined with modern buildings, creating a visually stunning landscape. This vibrant core is where visitors can find trendy shops, charming boutiques, and a diverse culinary scene that caters to every taste! As the cultural and commercial hub, Victoria beckons visitors to explore its rich history, soak in the arts and culture, and immerse themselves in the lively spirit that makes this coastal gem truly unforgettable.
The Saanich Peninsula offers visitors and locals a pastoral paradise for those yearning for a serene retreat. Its lush farmlands paint a picturesque countryside, and the quaint seaside towns add to the area's allure, offering a blend of coastal charm and rural tranquillity. As the region's agricultural heart, Saanich is a haven for farm-to-table foodies, nature enthusiasts and seekers of idyllic land and seascapes. Whether exploring rolling vineyards, strolling along the coast or enjoying the charming town centres, Saanich promises a peaceful escape.
This charming neighbourhood exudes an elegant ambiance, boasting tree-lined streets adorned with blossoms for most of the year. It is renowned for its collection of heritage homes and luxurious properties that offer a glimpse into the past while seamlessly blending with the natural beauty of the surroundings. Oak Bay is a timeless gem, where you can find stunning ocean views, a lovely heritage town centre and quiet streets that provide a true coastal living experience.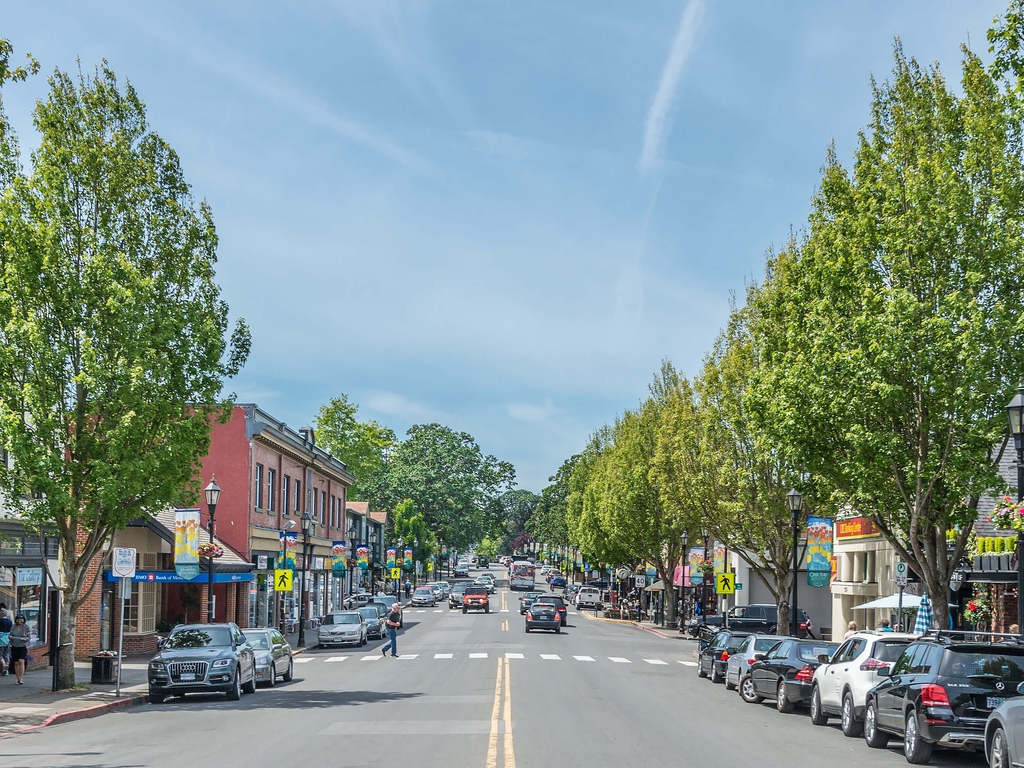 As one of the fastest-growing communities in the region, Langford (Westshore) exudes a vibrant spirit and offers a delightful blend of modern living and scenic beauty. The city boasts a myriad of amenities, including shopping centres, recreational facilities, and restaurants and is surrounded by picturesque landscapes. A haven for outdoor enthusiasts, Langford offers abundant hiking trails, lakes, and parks as well as one of the best golf courses in BC! This thriving city combines the comforts of urban living with the tranquillity of nature, making it a sought-after destination for those seeking a balanced and fulfilling vacation.
Sooke, a hidden gem on the southwestern coast of Vancouver Island, beckons true nature enthusiasts with its serene and remote coastal lifestyle. Surrounded by breathtaking landscapes, from rugged cliffs to lush forests, Sooke presents an idyllic haven for outdoor lovers. Here, you'll find endless opportunities for exploration, whether it's hiking along pristine trails, kayaking on tranquil waters, or simply savoring the beauty of the Pacific Ocean. Sooke's laid-back atmosphere and warm community make it a perfect retreat for those seeking solace and an unforgettable experience on the wild West Coast.
Shopping & Dining
Victoria BC boasts an eclectic and vibrant shopping and dining scene that caters to all tastes and preferences. In downtown Victoria visitors can explore a diverse range of options, from quaint dockside eateries at Fisherman's Wharf serving up freshly caught seafood to upscale Italian restaurants with fresh, in-house-made pasta dishes and fine wines. For those looking to enjoy craft beers and a lively atmosphere, brewpubs dot the city, offering a fantastic selection of locally brewed beverages. As one of the oldest Chinatowns in North America, Victoria's Chinatown is a must-visit culinary destination, featuring an array of authentic Asian cuisine that is sure to impress! And, of course, no visit to Victoria is complete without experiencing the grandeur of the Fairmont Empress Hotel, where guests can find elegant dining options and traditional afternoon tea in this beautiful heritage building. When it comes to shopping in Victoria, you'll want to head downtown where you can stroll down the charming Government Street, lined with boutique shops and visitor favourites, offering unique souvenirs and handcrafted treasures. For a trendy shopping experience, head to Lower Johnson, also known as LoJo, where you can find stylish fashion boutiques and locally made, artisanal goods. If you're in the mood for a more extensive shopping spree, The Bay Centre and Mayfair Mall provide a wide selection of popular brands, department stores, and dining options, making them perfect destinations for a day of retail therapy in the heart of the city.
Top Ten Things to Do
There are so many things to see and do when you're staying in this incredible city! Here are our top favourite things to do in the capital city!
Butchart Gardens: Explore the stunning landscapes and colourful blooms of this national historic site.
The Inner Harbour: The Inner Harbour is an iconic destination and a hub for must-see heritage sites like…

The Royal BC Museum: Immerse yourself in history and culture at this captivating museum.
The Fairmont Empress: Explore this majestic heritage hotel and learn about Victoria's colonial heritage.
Parliament Buildings: Admire the architectural beauty and significance of this governmental landmark.
Craigdarroch Castle: Step back in time and discover the grandeur of this historic landmark.
Chinatown: Wander through the vibrant streets and explore the narrow passageway and unique shops in Fan Tan Alley.
Miniature World: Get lost in the fascinating world of intricate miniatures and displays.
Southern Gulf Islands via BC Ferries: Take a day trip to one of the Southern Gulf Islands from the Swartz Bay ferry terminal.
Vancouver via Seaplane: Take a day trip to Vancouver on a seaplane.
Beacon Hill Park: Enjoy the outdoors in this beautiful city park with scenic views, stunning gardens and playgrounds.
Kayaking: Explore Victoria's scenic coastline and waterways with a guided tour or go solo!
Whale Watching Tour: Departing from the Inner Harbour, you can look for marine wildlife, including majestic orcas, sea lions and more!
FAQs
Q: What attractions and activities are there to enjoy in Victoria, BC?
A: Victoria offers a wealth of attractions, including the renowned Butchart Gardens, the Royal BC Museum, whale watching tours, historical landmarks like the Craigdarroch Castle, vibrant street markets, and so much more! You can find our top ten favourite attractions listed above!
Q: Can you recommend the best time to visit Victoria for a vacation?
A: Victoria is a lovely city to explore year-round. While peak tourist season is typically from May to September when the weather is mild and gardens are in full bloom, shoulder seasons (spring and fall) offer fewer crowds and often more accommodation options.
Q: Are there family-friendly activities available in Victoria?
A: Absolutely! Victoria is a family-friendly destination with attractions suitable for all ages. Kids will enjoy the Bug Zoo, Miniature World, Beacon Hill Park, and the interactive exhibits at the Royal BC Museum to name a few.
Q: What dining options are available in Victoria?
A: Victoria boasts a vibrant culinary scene with a wide range of dining options. From seafood restaurants along the waterfront to great brunch spots and international cuisine, there's something to please every palate!
Q: How do I get around in Victoria?
A: Victoria has excellent public transportation, including buses and small harbour ferries. Taxis and ride-sharing services are also available. If you prefer to explore at your own pace, car and bike rentals are easily accessible in the city.

Contact
Have a property you'd like to list?
EMR Vacation Rentals is always looking for additional high quality properties to add to our inventory. Drop us a line, let's chat about how we can help you!
Testimonials
What Our Guests
Say About Us

Pendray House
The house was great! Initially there were some issues with the alarm, but once that was resolved, it was excellent! The location is great! It was quiet, peaceful, and clean.
Lindal Home Sidney B.C.
Over all the house was great.We spent time in Sidney as well as Victoria and all the way yo Cambpell River. We went Whale watching ,caving,fishing,attended the fire works in Victoria. Lots of fun. See you next time.

A Fun Getaway
Lovely setting, nice clean house with lots of personal touches that made it cozy & comfortable. Lots of interesting books, and games, great outdoor space. Hope to come again soon.