About Shawnigan Lake BC
Victoria | Greater Victoria | Sooke | Sidney | Shawnigan Lake
Welcome to Shawnigan Lake
If your vacation includes any activity that occurs in, on or around water, Shawnigan Lake is for you.
Only a 45-minute drive from Victoria BC on Southern Vancouver Island, Shawnigan is a small picturesque lakeside community of just over 4 thousand, bordering the equally quaint townships of Cobble Hill and Mill Bay. This idyllic community has two distinct faces, however: firstly it is home to three of Vancouver Island's most notable boarding schools, Shawnigan Lake School, Maxwell International School and Lakeside Preparatory Academy.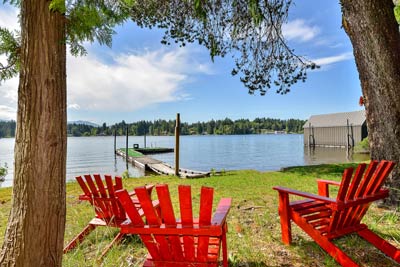 And secondly (and more popularly), Shawnigan Lake is known for the lake itself – a small, forest-lined spectacle that serves as a popular summer destination for city-folk looking to escape the hustle and bustle of Vancouver Island's busier centres. During the warmers months, Shawnigan's population doubles as visitors from abroad as well as locals from Victoria, Nanaimo and everywhere in between flock to the beach for barbeques, boating, angling and some of the best water-skiing anywhere. Its popularity as a summer day-tripper destination has turned Shawnigan into a tranquil summer cottage community and of course, has contributed to its overall growth. Several new developments (including the celebrated Shawnigan Beach Estates on the lake's northern end) have been built in the surrounding areas while on the eastern shore of the lake, Shawnigan Lake Village itself is now home to 3 restaurants, 2 general stores, a barber shop, clothing boutique and video store. The culture of the area has also matured in leaps and bounds. Shawnigan Lake is home to a popular and well-established arts and craft community with wares available year round as well as at several markets and artisan festivals peppered throughout its calendar. Shawnigan Lake has come a long way in its history. Originally the site of a large logging operation, the industry all but closed in the early Twentieth Century due in part to a fire that destroyed the mill; but the outdated and impractical use of oxen to haul the raw timber also contributed to its demise since the animals could only pull for short distances, effectively depleting the area of any active timber. These pages of history are still visible, albeit somewhat tattered, in the form of Shawnigan's Old Mill Park – an area that today doubles as a popular swimming destination.
Exploring might just be the best verb to collectively describe the Shawnigan Lake experience. It's worth the short paddle out to the favourite picnic spot of Memory Island Provincial Park, a small islet named in honour of the two local residents who lost their lives in World War II. It's also a favourite spot with bird-watchers so bring your binoculars! And while you have an oar clutched in your hand, why not check out the multiple shoreline marshes and lakeside cabins that dot this shimmering, forested paradise? Or the undeveloped south end of the lake with its scattered farmlands?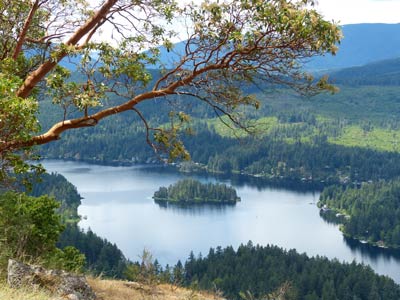 Or why not get off the water, tie on the hiking boots and experience some of the Southern Island's most beautiful treks. The trail systems of both Koksilah and West Shawnigan Lake Provincial Park provide hours and miles of unforgettable rambling. For a truly unique adventure, hike out to the abandoned Kinsol Trestle in the Koksilah River Valley – one of the highest wooden trestle bridges on the planet! A little further afield, is Bamberton Provincial Park, a large stretch of sandy beach with rows of arbutus and fir-shaded picnic tables terraced above the salty waters of the glorious Saanich Inlet. On a clear day, be sure to look for a glimpse of Washington State's majestic Mount Baker! Be a part of a bigger outdoor experience. The almost 18 thousand kilometer long Trans Canada Trail Regional Park connects Victoria with St. John's, Newfoundland, utilizing the old abandoned Canadian National Railway (CNR) from Sooke Lake Road at the southern end of Shawnigan Lake to the Glenora area. Hey, it's a long walk, but you have to start somewhere!
Naturally, the Shawnigan Lake area also caters to the nine-iron ninja in your group with such courses as Cowichan Golf and Country Club and Duncan Meadows Golf Course just north in Duncan, Mount Brenton Golf Course in nearby Chemainus and Arbutus Ridge Golf and Country Club near Cobble Hill.
This is Shawnigan Lake. The ones who have it really hard are the boarding school students. They leave every summer!

Contact
Have a property you'd like to list?
EMR Vacation Rentals is always looking for additional high quality properties to add to our inventory. Drop us a line, let's chat about how we can help you!
Testimonials
What Our Guests
Say About Us

Pendray House
The house was great! Initially there were some issues with the alarm, but once that was resolved, it was excellent! The location is great! It was quiet, peaceful, and clean.
Lindal Home Sidney B.C.
Over all the house was great.We spent time in Sidney as well as Victoria and all the way yo Cambpell River. We went Whale watching ,caving,fishing,attended the fire works in Victoria. Lots of fun. See you next time.

A Fun Getaway
Lovely setting, nice clean house with lots of personal touches that made it cozy & comfortable. Lots of interesting books, and games, great outdoor space. Hope to come again soon.