Quick Look at Fall on Vancouver Island
When is the best time to visit Vancouver Island in the fall?
Both September and October on Vancouver Island tend to be mild and fairly dry with the rains and cold setting in in November. If you're planning an autumn trip to Vancouver Island, I would plan for September or October.
What are the fall colours like on Vancouver Island?
While Vancouver Island is a stunning place in the fall, with so many evergreens it retains much of its verdency throughout the fall and winter. However, there are places on Vancouver Island where you can see the deciduous trees change colour and crunch through vibrant fallen leaves.
What outdoor activities are popular on Vancouver Island during the fall?
Some of the most popular activities in the fall are walking and hiking, cycling, sightseeing and road tripping. The fall is a great time to hike, walk and cycle because the heat of the summer has passed and it can be far more comfortable in the cooler weather. Rainy or overcast days provide the perfect excuse to visit some of the incredible heritage sites in the region and if you'd like to explore more of the Island the fall is a great time to do it! The crowds of summer have usually dispersed but the weather is still mild enough to enjoy exploring new towns, cities, beaches and parks!
What is the weather like on Vancouver Island in the fall?
The weather on Vancouver Island in the fall is typically mild. With the rain and chill usually arriving in November, visitors and locals alike have both September and October to enjoy autumnal activities!
Where are the best places to see wildlife on Vancouver Island in the fall?
During the early fall, many whale watching and eco tour companies still take visitors out to see resident and late migrating whales that live and pass through the Salish Sea. Additionally, you can go for a hike in the region where you might come across some shy deer or spot a sea otter around the shores. If you rent a kayak or paddleboard, you'll undoubtedly be able to find some marine life like jellyfish and starfish as well as marine birds and even a friendly seal or two!
What are some scenic drives to take on Vancouver Island during the fall?
There are many road trips that you can take on Vancouver Island that are perfect in the fall! Check out some of our road trip ideas below!
Are there any hiking trails that are particularly beautiful in the fall on Vancouver Island?
The fall is one of the best times for hiking on Vancouver Island because the weather is mild but cooler than the height of summer and the changing leaves and towering evergreens are stunning. We've made a list of our favourite walks and hikes on Vancouver Island to enjoy in the fall below!
More About Fall on Vancouver Island
As the summer gives way to fall, it can be tough to say goodbye to the warm weather and endless blue skies, but on Vancouver Island, British Columbia September is still usually sunny and warm with a crisp breeze and a few sporadic, overcast days. It's also a great time if you're hoping to avoid the crazy crowds of summer and enjoy the changing season and fall colours at an easy pace. So if you're debating a trip to the Island in the fall, you're in the right place! EMR offers incredible vacation rentals all over Vancouver Island and they are perfectly located to enjoy all our favourite fall activities! whale watching
Fall Hikes on Vancouver Island
No matter where you are staying, Gowlland Tod is worth the drive! At this park, there are over 25 kilometres of winding trails through this incredible park on the Saanich Inlet, and it's here that you can discover rushing creeks, waterfalls, little wooden bridges, and private beaches. It's a great place to enjoy trekking through the wilderness on a warm fall day.
With over fifty acres of gardens, the world-renowned Butchart Gardens is one of the best places to find fall foliage and enjoy a sunny, crisp, early autumn day. Although all five of their themed gardens are stunning year round, in the fall, the Japanese Garden comes alive with vibrant red and gold maple trees.
Aylard Farm: East Sooke Regional Park
This trail system, on the south side of East Sooke Park, is perfect if you are looking for an easy walk or a great spot for an autumnal picnic. Just a five minute walk from the parking lot through gorgeous open fields spotted with old fruit trees, you'll find a trail that leads down to a tiny beach. Here you can set up for an afternoon on the water and enjoy the peace and quiet and maybe even see river otters scurrying across the sand. If you continue on the trail inland, you'll find gorgeous hilltop views.
Anderson Cove: East Sooke Regional Park
Guests looking for a moderate hike will love that Anderson Cove is just a five minute drive! Right on the edge of the Sooke Basin, on Anderson Cove Road you'll find the trailhead for Babbington Hill and Mount Maguire. On these hilltops you'll find sweeping views of the Olympic Peninsula and in the fall you can see kettles of turkey vultures circling, waiting for the wind to change and help them on their migratory path.
Just off Rocky Point Rd. in Metchosin is the beautiful Matheson Lake. Take a walkon the picturesque trail that surrounds this lovely lake and take in the changing foliage. On a warm fall day, the sandy beach area is ideal to take a coffee or picnic and dip your toes in before it gets too cold!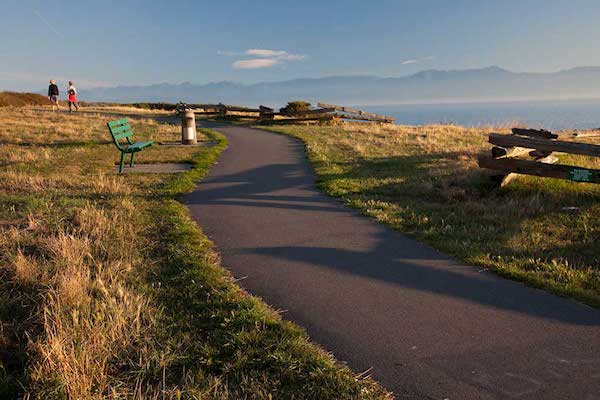 This 7 kilometre pathway runs from downtown Victoria near Fisherman's Wharf all the way to the border of Oak Bay looping around the beautiful neighbourhood of James Bay, passing Beacon Hill Park, Cook Street Village, and the neighbourhoods of Rockland and Fairfield. On this seaside path, you can enjoy the crisp ocean breezes, gorgeous views, lovely homes and fall colours.
With nearly 200 acres to explore, Beacon Hill Park is one of the most stunning places to take a walk in the fall. Here, you can find Japanese maple trees aflame in reds and gold as well as one of the largest Garry oak ecosystems. As the cooler weather sets in, these magnificent trees drop their leathery leaves to create a carpet of the most perfect crunchy leaves to walk through. Guests staying downtown Victoria are lucky enough to be right on the edge of this magnificent park!
With majestic waterfalls, meandering trails through lush green forest and an annual salmon run where you can watch the river churn and flash with thousands of spawning salmon, this park is an autumnal paradise. Bursting with autumn colours, and towering Douglas firs, Goldstream Provincial Park might be one of the most spectacular places to visit in the fall whether you're looking for a peaceful stroll in nature or a more vigorous hike.
Visit Heritage Sites on Vancouver Island
With over 500 acres of oceanfront property and expansive Edwardian castle and gardens to wander through, Hatley Castle is a must for an autumn activity. Walk through the garden and enjoy the last blooms of the summer exploding all over the trellises, and marvel at the red and gold of the Japanese maples. When you want to warm up, head inside the castle and enjoy the gorgeous Edwardian architecture!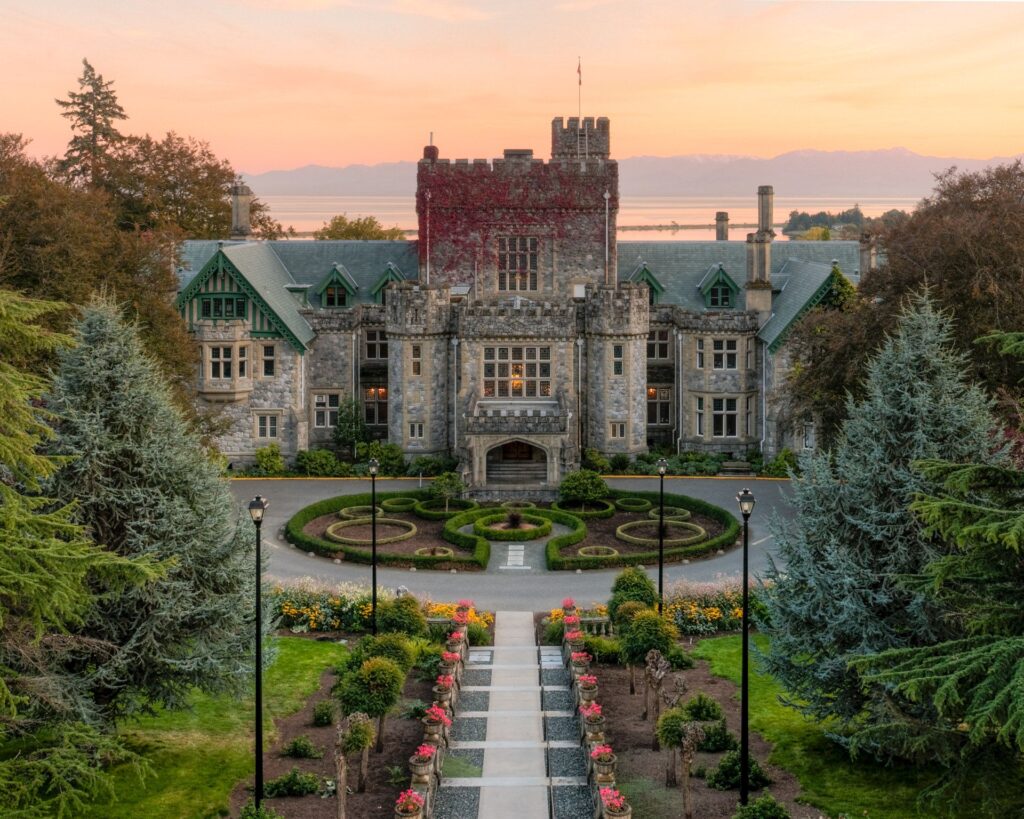 Located in the beautiful Inner Harbour, the Parliament Buildings might be one of the most recognized landmarks in Victoria since they were built for Queen Victoria's Diamond Jubilee in 1897. Built by Francis Rattenbury, the Parliament Buildings were designed to provide the burgeoning city with a proper (and impressive) seat of Parliament as it sought to join Canada. Rattenbury's design was created using raw materials found on the Island showcasing how native materials can readily be used to create impressive, European-style buildings. Both the interior and exterior are impressive with filigree, gold leaf, murals, stained glass, important artifacts, and columns adorning the halls and rooms and the domed oxidized copper roofs, ornate facade and stately grounds of the exterior, you can see how this building was and still is, such an important part of Victoria's identity.
Nestled in the lovely Rockland neighbourhood, Craigdarroch Castle was the home of local coal baron, Robert Dunsmuir in the 1800s. With the express purpose of impressing and entertaining their peers, Craigdarroch Castle was where all of Victoria's wealthiest families gathered during the early years in the city's history. With endless dark wood and intricate carvings, the spiral staircase to the turret, grand living spaces and beautiful grounds, the Castle is a must-visit! Take a wander at your own pace on a self guided tour and be transported to another time!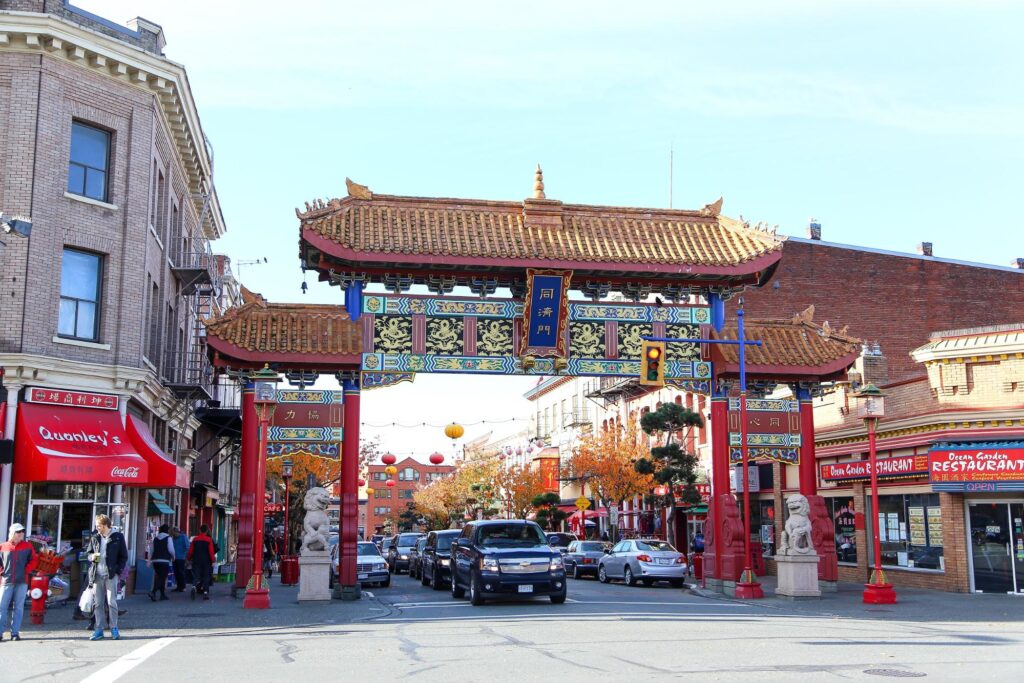 At the northern end of Downtown Victoria is the second oldest Chinatown in North America and the oldest in Canada. Here, visitors can wander through little boutiques, find fresh produce, dine at authentic Chinese restaurants and explore one of the most unique shopping streets in BC–Fan Tan Alley. On a fresh autumn day, you can shop for unique gifts and then treat yourself to some delicious noodle soup while you watch the leaves fall.
Get Ready for Halloween
When the air changes, you know that spooky season is around the corner! Whether you're a die-hard Halloween fan or just enjoy a good pumpkin spiced latte, there are lots of fun ways to celebrate the season! From pumpkin patches and haunted houses (both real and fake), to decorating and trick or treating, we've got a full list of our favourite ways to celebrate Halloween!
Visit a Winery in the Cowichan Valley
When you think about BC wineries, most people think of the Okanagan but on Vancouver Island, there is an incredible wine region that produces unique varietals and incredible vintages. The Cowichan Valley offers growers rich soil, mild weather and fresh ocean breezes creating an ideal microclimate for many award-winning varietals. On a fresh fall day, it's hard to find anything better to do than visit one of these stunning vineyards, taste the flavours of the region and learn more about Canadian winemaking. For more information including a complete list of our favourite vineyards to visit click here!
Take a Road Trip!
Whether you're staying on the southern Island near Victoria or in Central Vancouver Island, there are so many incredible places to visit! When the weather gets a little cooler and the summer crowds thin, taking a road trip to explore more of this beautiful Island is a great idea! Here are some ideas to get you started on planning your Vancouver Island road trip!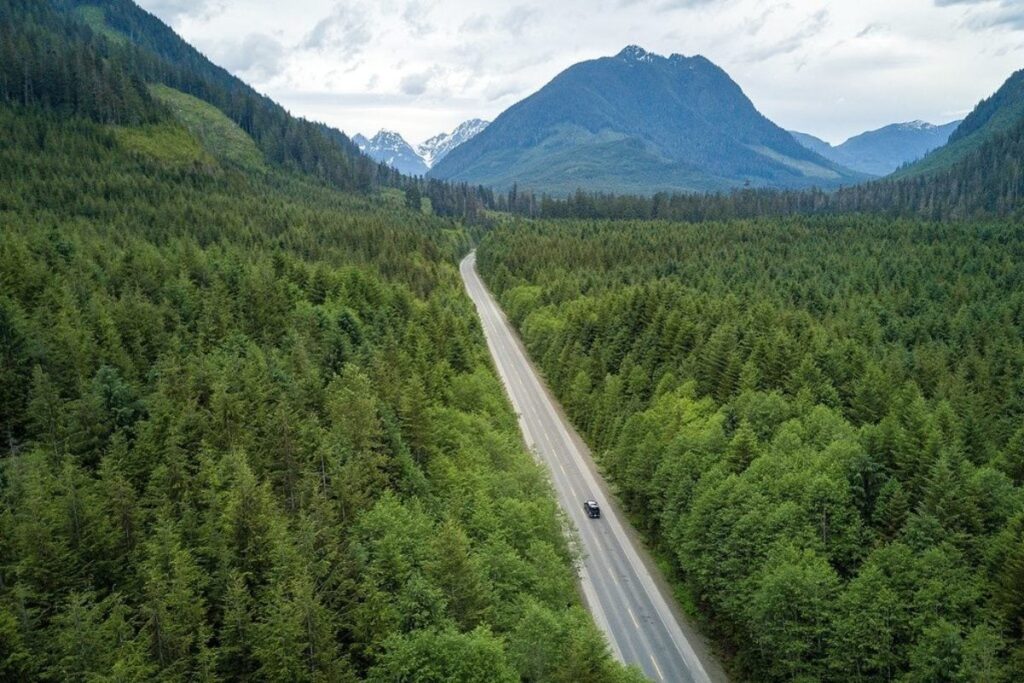 This stunning 255km road trip takes you around South Vancouver Island in a way you'll never forget! Travel along oceanside highways, logging roads and enjoy the views from the cliffs of the Malahat and explore the gorgeous old growth forests, little cities, towns and settlements that dot this region! This route offers visitors a unique and authentic way to discover the wild west coast!
Whether you're staying in the picturesque Cowichan Valley, nearby in Victoria, Sooke or Saanich, this region is a perfect place for a mini getaway! With tons of hidden gems like wineries, pristine lakes, attractions, cities and towns to visit, a road trip here is a great way to enjoy the changing season! Take a break and hike up the Malahat Skywalk to take in the views, pop into a vineyard for lunch and explore the quaint village of Cowichan Bay, and wander through the heritage downtown of Duncan on a totem walk!
If you're staying in Nanaimo, one of the best road trips to take is up the coast to Campbell River. Explore the quaint towns of Parksville and Qualicum Beach, pop into the eclectic, outdoor market at Coombs, walk along soft sand beaches, check out the pretty towns of Courtenay and Comox and immerse yourself in the wild beauty of Campbell River!