Pemberton, British Columbia
Whistler | Pemberton | Squamish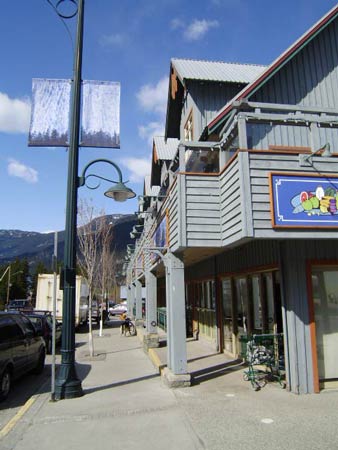 Nine times out of ten, anyone traveling north on British Columbia's Sea to Sky Highway has one destination in mind: Whistler
And for good reason. Hailed as one of the top alpine recreation destinations on the planet, Whistler is home to two peaks – Whistler and Blackcomb. Combined, they boast over 8 thousand acres of skiable terrain, over 200 runs, 38 lifts, 5 snowboard parks, 2 super pipes and over five thousand feet of vertical drop. Add dozens of chalets and world class accommodation plus a European-style pedestrian village with over 100 nightclubs, bars and restaurants and it's easy to see why this Pacific Coast jewel won the bid for the 2010 Winter Olympic Games. Even after the 7 month ski and snowboard season, Whistler is popular with hikers, naturalists, fishing enthusiast and in particular, mountain bikers. Every summer, the Kokanee Crankworx event takes over the resort as the world's best mountain bikers compete for honours ranging from downhill racing to individuals skills to big air competitions. Factor in demonstrations, exhibits and live music and you've got one of the best biking events on the planet.
But one of British Columbia's best kept secrets lies just north of this mountain paradise: the Pemberton Valley. Named after Joseph Despard Pemberton, the Hudson's Bay Company surveyor-general in the 1850's this picturesque community and its surrounding area puts the Beautiful in Beautiful British Columbia. Often referred to as Spud Valley by the locals, the Pemberton Valley is a rich cradle of agriculture thanks in part to the Lillooet River, the Green River and Pemberton Creek which all naturally irrigate the area. The town of Pemberton itself is located at the base of the beautiful Mount Currie and surrounded by a pastoral landscape of rolling farmlands. Numerous glimmering, placid mountain lakes dot the region as well, favourites including Anderson Lake, Lillooet Lake, Birkenhead Lake, Owl Lake, Green Lake, Mosquito Lake and One Mile Lake.
Naturally, outdoor recreation defines Pemberton, attracting visitors all year round. Summer's offer an array of exciting options including hiking, biking, horseback riding, off-roading, fishing, rafting, kayaking, golfing. Looking to spend your vacation on the water? Green River has some amazing rapids and rafting companies to take you down them, Lillooet River is a notorious hot-spot for jet boating enthusiasts and anglers can get their kicks fishing on Duffey Lake. More comfortable with both feet firmly planted on dry ground? Enjoy hiking trails like the One Mile Lake and Nairn Falls walking trails or the longer haul that is the Birkenhead Lake's Lakeshore Trail. Whistler isn't the only mountain biker destination, either. Everything from groomed trails to gravel roads cater to bikers of all levels. Check out the fast-paced trails around Mosquito Lake and Ivey Lake or create a family-fun day on the 8 kilometer Valley Loop Trail which runs from Pemberton Village to Pemberton Creek Dyke.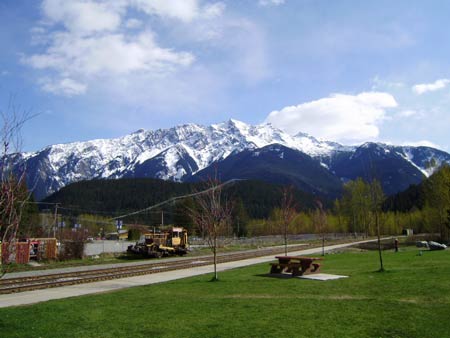 In the winter, cross-country skiing and snowmobiling dominate the area's activity roster. Joffre Recreation Area offers top-notch-country skiing and the Pemberton Ice Fields provide snowmobiling at its finest. But skiers and snowboarders won't be disappointed either. Whistler is less than an hour's drive south so all the excellence of a world-class alpine resort is just as accessible without having to sacrifice the tranquil solitude of a vacation in the valley. Whistler might be a glamorous and exciting place to stay, but once the lifts close for the day, many visitors prefer the down-home comforts of rustic, Wild West-flavoured Pemberton. Pemberton's proximity to Whistler means that the town is included in much of the activities leading up to and during the 2010 Winter Olympic Games. Not only will the town feature as one of the final legs of the Olympic Torch Relay but also Pemberton's Copperdome Lodge will be home to the German Olympic Youth Camp during the Games themselves. A joint venture of the German Olympic Sports Confederation and the German Olympic Academy, this camp consists of over 40 young German athletes who will embark on this cross-cultural field trip to experience the Olympic Games and the spirit and ideals that make a Games like this possible.
Physical activities aside, Pemberton also offers some of the most amazing dining in the area. Maybe Whistler Village has more selections, but Pemberton prides itself on its fantastic quality. And with so much arable land surrounding the town, it's no surprise that many of Pemberton's restaurants have menus feature locally sustainable products. Enjoy the flavours of Di Carlo's Italian Restaurant; savour something savoury at Grimms Gourmet Deli; enjoy a fine cup of joe at Mount Currie Coffee Company or The Pony Espresso. Say cheese at the Swiss Deli; enjoy a romantic evening at the Wildwood Bistro & Bar…
If you're thinking about vacationing in Whistler, remember that Pemberton is just around the corner. Do something different this year…
Welcome to Pender Island
North and South Pender Island provide 34 kilometres of sub-Mediterranean climate in British Columbia's southern Gulf Islands – the chain that peppers the Georgia Strait between Vancouver Island and the Mainland.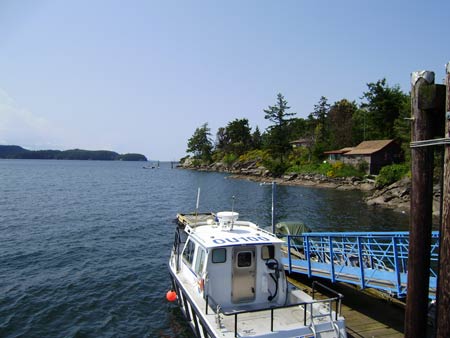 Named after Daniel Pender, the Captain who navigated much of the British Columbia coastline in the latter part of the nineteenth century, these two islands are a favourite destination with visitors. Graced with rolling farmlands, forests, beaches, lakes and small mountains it's no wonder the 2.5 thousand person population swells drastically in the summer months with the arrival of campers, cabin-dwellers and day trippers.
Access to these islands is made easy, courtesy of BC Ferries from Victoria or Vancouver as well as seaplanes, planes, water taxis and helicopters. Sailing in? Bedwell Harbour is an official port-of-entry for Canada Customs. As you're arriving, keep your eyes open for the numerous and beautiful islets just offshore. In particular, Skull Island on the harbour's Northwest side is the object of a future medium-sized restoration project.
North and South Pender Island are connected by a one-lane bridge that spans the narrow canal separating the two land-masses. The majority of the population and consequently most guest-services, can be found around Magic Lake on North Pender while the southern island caters to the rural lifestyle.
Don't let the diminutive size of these islands fool you. There's fantastic shopping here, courtesy of an array of restaurants, galleries and shops, not to mention a continual roster of local events. The Driftwood Centre, the north island's commercial hub, is home to a grocery store, liquor store, gym, bank, post office, pharmacy, and bakery, not to mention clothing shops, bookstores and eateries. Only 10 minutes away by car, Hope Bay offers more choices including galleries, cafes, and a jewellers.
Summer times bring one of Pender's most famous events to the community hall: the Saturday morning Farmer's Market – a great chance for locals and visitors to mix and mingle over local produce, arts and crafts and entertainment.
This area is a mecca for water enthusiasts. Whether fishing, boating or scuba diving, the rich ocean heritage in and around Pender and the other Gulf Island is a veritable playground for those inclined toward oceanic pursuits. And if 'terra firma' holds more of an allure, try the island's beautiful nine-hole golf course, the result of a vision a handful of local residents shared back in 1937.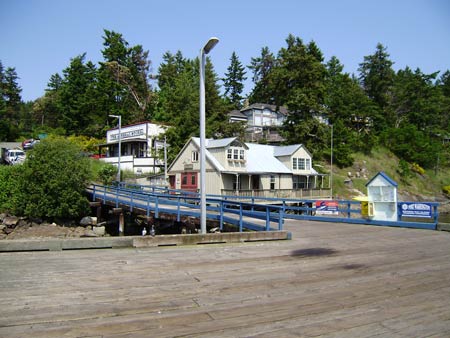 Two Provincial camp grounds provide Pender with some of the best camping in the Gulf Islands – jewels in the Gulf Islands National Park Reserve crown. Enjoy either Prior Centennial or Beaumont Marine Park (Although Beaumont is only accessible by foot or by boat) The area provides unforgettable hiking and walking trails. For an astonishing view, trek up Mount Norman – the highest peak on either North or South Pender offers a breathtaking view of this island paradise, any time of year.
But the most fascinating, most unique and definitely most entertaining reason to visit the Pender Islands has nothing to do with the beautiful beaches, mountain vistas, charming shops or tantalizing restaurants. It has to do with a Frisbee and 27 holes…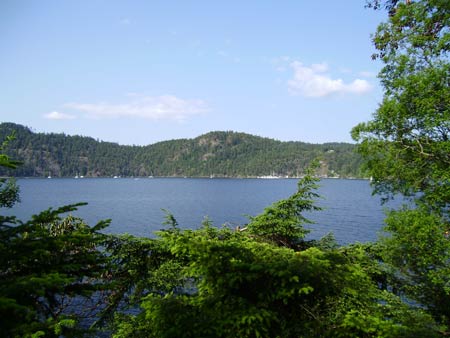 Yearly, the impressive custom Golf Island Disc Park near Magic Lake plays host to The Pender Island Invitational – an internationally-popular Frisbee golf tournament that began in 1996 and has flourished into an event that attracts 'athletes' from all over North America. Players compete with each other over 27 holes, for The Bark, a gnarled piece of kindling-like arbutus wood with the names of previous champions or Keepers of the Bark, engraved on it. Even non-winners stand to make some prize money as a traditional purse of $5 is paid by everyone in a group to the player who scores an Ace-Pot – the disc golf version of a hole-in-one. The competition is extremely entertaining to watch, as the 27-hole course features tone poles for the first nine holes while the middle and back nine come equipped with chain baskets. Factor in numerous trees, wind and undulating terrain and you have the makings of an amazing 4-day spectacle.
North and South Pender Island are as unique an island experience as you'll find. Just don't forget your Frisbee.

Contact
Have a property you'd like to list?
EMR Vacation Rentals is always looking for additional high quality properties to add to our inventory. Drop us a line, let's chat about how we can help you!