Waterfront Properties in BC
If you're in search of the perfect oceanfront or lakefront getaway, you've come to the right place! EMR is the premiere gateway to the most breathtaking waterfront properties on Vancouver Island, Canada!  Our selection of vacation rentals offers an array of luxurious properties with stunning ocean views, perfect for enjoying the Canadian West Coast lifestyle.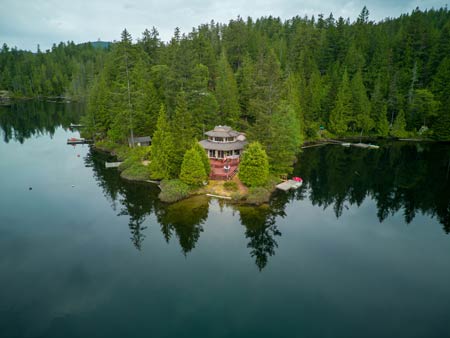 From charming beach houses to cozy cottage rentals, each property is meticulously designed and decorated to ensure that our guests have a comfortable, stylish home-away-from-home. Our waterfront properties also offer easy check-in, high-speed Wi-Fi, fully stocked kitchens, high-end linens, and if you're looking for additional amenities you can find pet-friendly options, hot tubs, pools and more!
Whether you're looking for a beachfront Vancouver Island vacation rental in Victoria, Sooke, Parksville, Qualicum Beach, Nanaimo, the Comox Valley or on the Sunshine Coast, our properties are strategically located to offer the best of British Columbia's coastal life. Wake up to the sound of waves gently crashing on the shore, start your day with a dip in the water and take in the stunning views with your morning coffee. From our oceanside properties you can embark on thrilling water adventures like kayaking, fishing charters or go on a whale-watching excursion to catch a glimpse of majestic orcas. When you're ready for dry land, you can hike in a pristine Provincial Park and take in the mountain views, visit beautiful Salt Spring Island, the largest of the Gulf Islands, explore historic Victoria or wander through the vineyards in the Cowichan Valley. After a day of activities, unwind by a crackling fire pit under the stars, soak in your private jacuzzi or take an evening stroll along the beach.
Whether you're seeking a serene escape to unwind or an adventure-packed vacation, our oceanfront cottages and homes are the perfect choice!
FAQs
Q: Are all the properties listed on your site located on Vancouver Island?
A: Actually, EMR offers some gorgeous waterfront properties on the Sunshine Coast on BC's Mainland as well as Vancouver Island. All our properties featured on our site offer stunning views and easy access to the ocean or lakes. Take a look at our Waterfront Listings page to find your perfect rental!
Q: How can I find the perfect waterfront rental property for my vacation?
A: You can use our advanced search filters to narrow down your options based on location, amenities, property type, and more. Feel free to contact us if you need any assistance in finding the ideal property for your stay.
Q: What amenities can I expect in the waterfront properties?
A: Our waterfront rental properties are equipped with various amenities like waterfront decks or balconies, fully-equipped kitchens, and some even offer private beach access and equipment for water-based activities such as kayaking or paddleboarding. For specific amenities, check the specific property's page.
Q: How do I make a reservation for a waterfront property?
A: Making a reservation is simple! Just click on the property you're interested in, select your desired dates, and proceed to the booking process. Our secure payment system ensures a smooth and safe transaction.
Q: Are pets allowed in the waterfront properties?
A: Pet policies vary among properties. Some may allow pets while others may not. You can check the property's individual page or contact us for pet-friendly options!

Contact
Have a property you'd like to list?
EMR Vacation Rentals is always looking for additional high quality properties to add to our inventory. Drop us a line, let's chat about how we can help you!
Testimonials
What Our Guests
Say About Us

Pendray House
The house was great! Initially there were some issues with the alarm, but once that was resolved, it was excellent! The location is great! It was quiet, peaceful, and clean.
Lindal Home Sidney B.C.
Over all the house was great.We spent time in Sidney as well as Victoria and all the way yo Cambpell River. We went Whale watching ,caving,fishing,attended the fire works in Victoria. Lots of fun. See you next time.

A Fun Getaway
Lovely setting, nice clean house with lots of personal touches that made it cozy & comfortable. Lots of interesting books, and games, great outdoor space. Hope to come again soon.