The west coast of Canada has long been known for its incredible beaches and Vancouver Island, British Columbia, is no exception! Whether you go north, south, east or west, you're sure to find some of the most stunning beaches in the world. From remote windswept beaches to enormous shorelines, on Vancouver Island there are hundreds of absolutely stunning beaches to explore and enjoy! Soak up the sun, surf, swim in the refreshing saltwater, make sandcastles, kayak, paddleboard, spot majestic orcas, minke and grey whales from the shores and so much more! If you're looking for the very best beaches on Vancouver Island, we've got you covered! Check out our list of favourite beaches and get out there!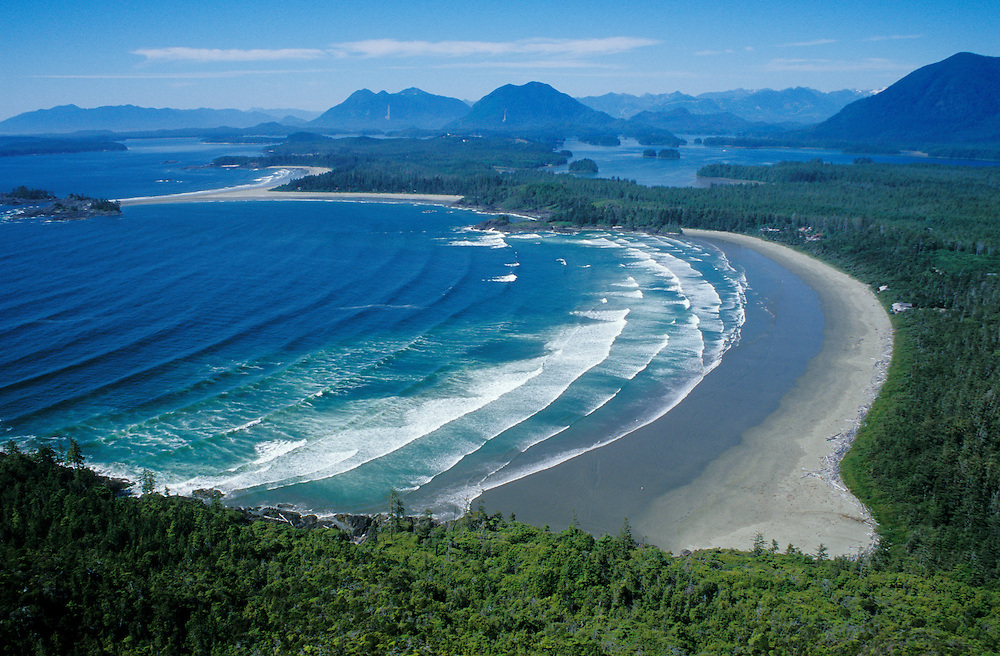 Nestled in the charming town of Tofino, these beautiful Canadian beaches are a haven for surfers and windsurfing enthusiasts who travel here from far and wide! With pristine sands and incredible waves reminiscent of Hawaii's shores is a coastal paradise that leaves a lasting impression! Overlooking the vast expanse of the Pacific Ocean, these mesmerizing beaches in Tofino offer visitors the perfect place for thrilling surfing adventures and unforgettable moments!
Photo credit: Greg Vaughn
Tucked between Tofino and Ucluelet on the edge of the Pacific Rim National Park, Long Beach epitomizes the spirit of the wild west coast. Surfers flock to its legendary waves, while beach enthusiasts delight in its soft sand and sweeping vistas of the Pacific Ocean. This expansive beach is the perfect place to enjoy the freshest ocean breezes and beachcomb as you wander along its seemingly endless expanse. With its awe-inspiring beauty and invigorating ambiance, Long Beach embodies the essence of Vancouver Island's renowned surf culture, making it an absolute must-visit destination for both locals and travellers!
Follow a scenic hiking trail from the parking lot through lush greenery to reach the magical shores of Mystic Beach. This compact, gray-sand beach along the Juan De Fuca Marine Trail boasts a unique charm, with a cascade gracefully pouring over sheer cliffs. Located near Jordan River, it offers a serene and secluded retreat for nature enthusiasts seeking a tranquil coastal experience.
This tranquil beach offers a serene escape when you're staying near Sooke. With a forested walking trail that takes you from the parking lot to the beach and a wide sandy beach with views of Washington to enjoy, whether you're paddleboarding, kayaking, or simply basking in the sun, China Beach is a stunning place to bask in the beauty of the west coast.
A family favourite, French Beach offers visitors a playground, picnic table and a beautiful pebbly beach to enjoy. Here, you can spend many hours enjoying the fresh air, playing in the waves, climbing the driftwood, and finding beautiful stones and shells – it's perfect for a family day out!
Discover the untamed beauty of San Josef Bay, nestled within the Cape Scott Provincial Park. This remote beach is a paradise for hikers, boasting captivating trails that lead to its pristine shores. With its white sand and blue waters, San Josef Bay offers a stunning, remote coastal experience.
Located on Hornby Island, Tribune Bay is an idyllic beach with white sand and crystal-clear waters. The only access to Hornby Island is via two ferries: one from Vancouver Island to Denman Island and then from Denman Island to Hornby Island. While it is quite the journey to get here, this remote beach is worth it!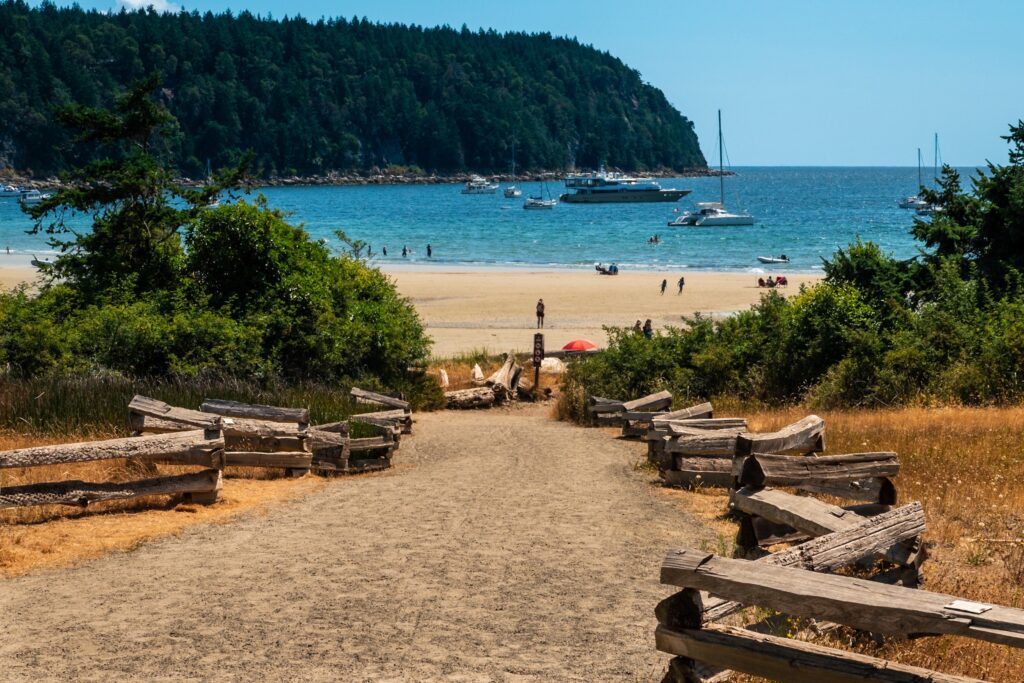 Photo credit: WR Foster
Located in the gorgeous little resort town of Parksville, Rathtrevor Beach is the perfect beach on the east coast to do some serious beach exploration. At low tide, you can walk for kilometres along the sand, beachcomb and see the creatures in tidal pools! This is the perfect beach for families with kids because the immense stretch of sand and warm, shallow water means that you can have a stress-free beach experience! Whether you're staying right in Parksville or in nearby Nanaimo, this beach is a must!
Experience the magic of low tide at Kye Bay, nestled on the shoes of Comox. This beach has a mixture of pebbles and soft sand and offers a wonderland of tidal pools, perfect for beachcombing and exploration! With its peaceful ambiance and stunning vistas, Kye Bay is a coastal haven that invites you to embrace the beauty of nature's rhythms.
Nestled in one of Victoria's most picturesque neighbourhoods, Willows Beach is one of the best beaches in the city. It's an ideal spot for beginners to paddleboard or launch a kayak and it is one of the most popular windsurfing spots in the summer! With stunning views and soft sand to sunbathe on, Willows is by far one of the best places in Victoria to spend a sunny, summer day!
Photo credit: Featured Image Sharon Glynn