British Columbia is a beautiful province located in western Canada. It consists of a vast area of mountains, forests, lakes, and cities – each with their unique character and culture. The cities of British Columbia are some of the most vibrant and diverse in the country, offering visitors and residents alike a taste of the Pacific Northwest lifestyle.
One of the most recognizable cities in British Columbia is Vancouver. It's known for its bustling urban center, picturesque coastal views, and vibrant arts and culture scene. As one of the most multicultural cities in the world, Vancouver is a melting pot of different cultures, languages, and influences. Its downtown area is home to some of the country's tallest buildings, including the iconic Harbour Centre and the distinctive Olympic Cauldron. In contrast, the northwest area of the city offers a peaceful reprieve with verdant forests and stunning mountain views. Whether you're interested in shopping, cuisine, or outdoor activities, Vancouver has something to offer everyone.
The Best Cities to Visit in British Columbia
British Columbia boasts some of Canada's most exciting travel destinations. With stunning natural beauty, top-rated attractions, and thriving cultural scenes, it's easy to see why this scenic province draws so many visitors every year.
Here are the top cities in British Columbia that you won't want to miss:
Vancouver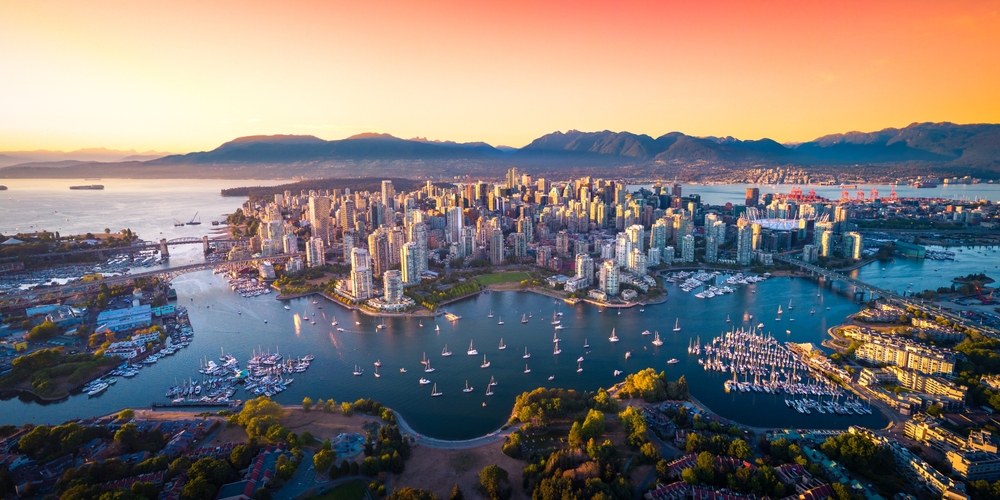 No list of British Columbia cities would be complete without mentioning Vancouver. This vibrant cosmopolitan city is surrounded by mountains and water, making it one of the most scenic cities in the world. With top-rated museums, world-class dining, and exciting nightlife, there's something for everyone in Vancouver.
Victoria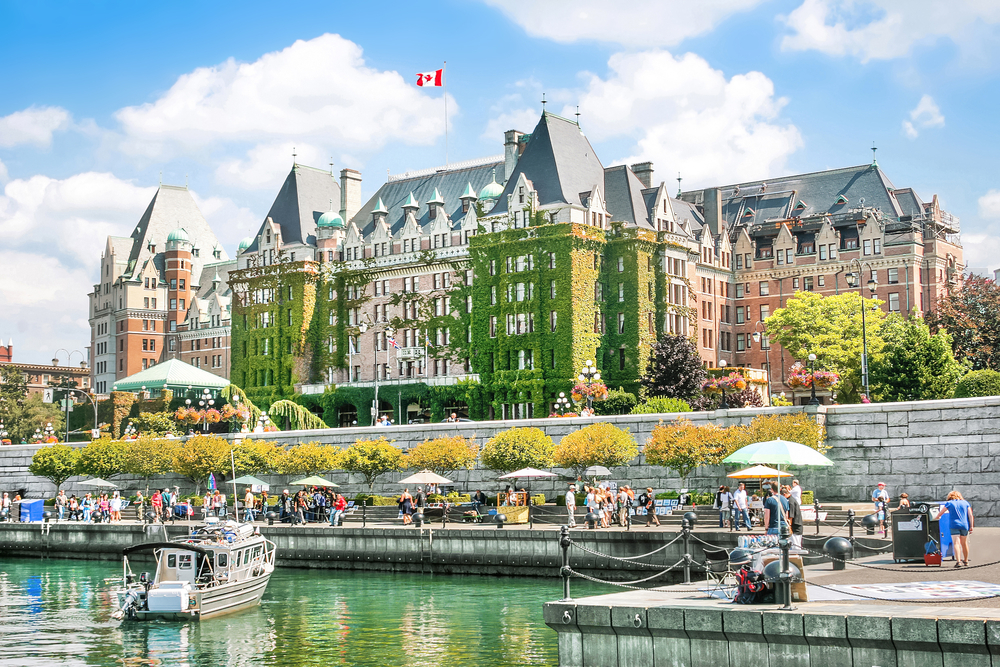 Located on Vancouver Island, Victoria is a charming city with a rich history and culture. Known for its beautiful architecture, colorful gardens, and excellent dining, Victoria is the perfect spot for a romantic getaway or a family vacation.
Whistler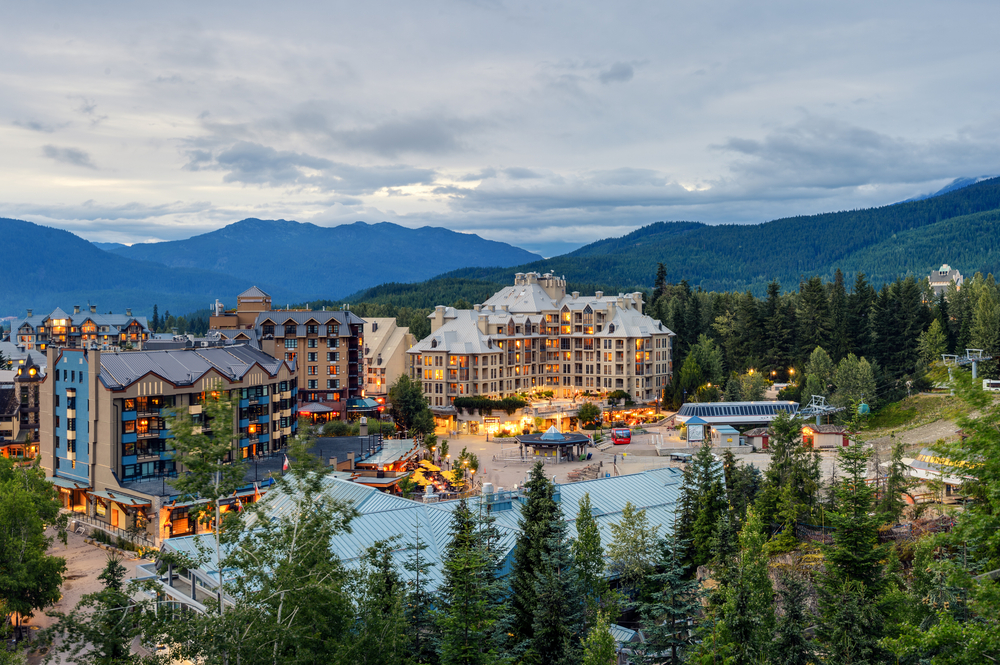 Whistler is a mountain town that has something for everyone, no matter the season. In the winter, visitors can hit the slopes at one of North America's premier ski destinations. In the summer, Whistler transforms into a paradise for hikers, mountain bikers, and outdoor enthusiasts.
Kelowna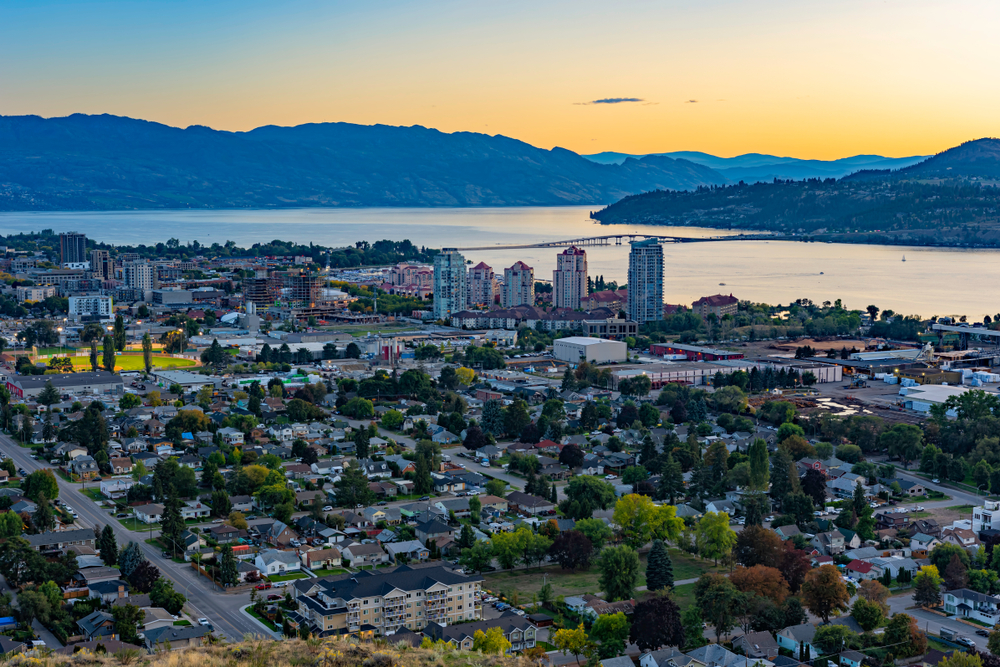 Kelowna is one of British Columbia's most popular summer destinations, and for good reason. With warm summers and stunning lakeside scenery, Kelowna is the perfect spot for a relaxing vacation. Visitors can enjoy boating, swimming, and wine tasting in this scenic city.
Nanaimo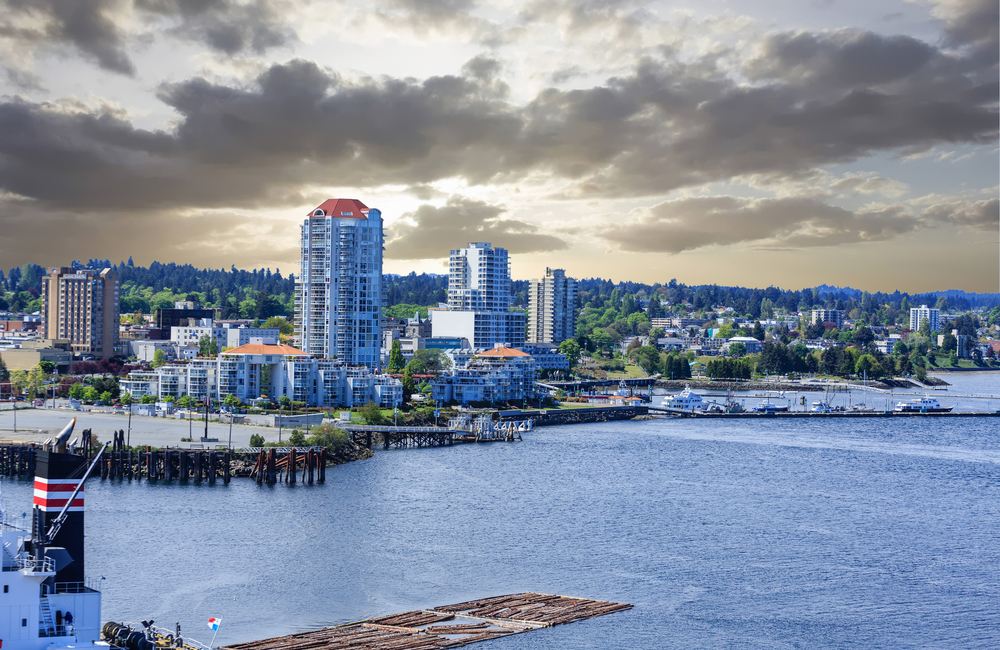 Located on Vancouver Island, Nanaimo is a charming city with a rich maritime history. Visitors can explore the city's beautiful harbor, take a stroll along the waterfront, or enjoy a delicious seafood meal. With plenty of outdoor activities and cultural events, Nanaimo is a must-visit destination in British Columbia.
There you have it – the top five cities to visit in British Columbia. Whether you're looking for outdoor adventures, cultural experiences, or urban attractions, this beautiful province has something for everyone.
Vancouver: The Urban Jewel of British Columbia
As the largest city in British Columbia, Vancouver has made a name for itself as a bustling metropolis with a thriving economy, lively culture, and natural surroundings that are hard to beat. Here's what you need to know about this urban jewel:
Geography: Vancouver is situated on the west coast of Canada, nestled in between the Pacific Ocean and the Coast Mountains. This location offers stunning views of both land and sea, and plenty of opportunities for outdoor adventure.
Population: With a population of over 630,000 people, Vancouver is a diverse and multicultural city. The city is known for its welcoming atmosphere and inclusive attitude, making it a great place to live or visit.
Economy: Vancouver has a robust economy, with industries ranging from technology to natural resources. The city is home to several of Canada's largest companies, including Telus and Lululemon.
Culture: Vancouver has a rich arts and culture scene, with several museums, galleries, and theaters dotting the city. The city is also known for its vibrant music scene and annual festivals, including the Vancouver Folk Music Festival and the Vancouver International Jazz Festival.
Attractions: There is no shortage of things to see and do in Vancouver. From exploring the Stanley Park seawall to shopping on Robson Street, there's truly something for everyone. Don't miss the chance to visit Granville Island, a unique shopping and dining destination that's popular with locals and tourists alike.
Climate: Vancouver has a mild and temperate climate, with average temperatures ranging from 5°C (41°F) in the winter to 20°C (68°F) in the summer. While it does rain frequently, the city is known for its lush greenery and thriving gardens.
Overall, Vancouver is a dynamic and exciting city that offers the perfect balance of urban sophistication and natural wonder. Whether you're a city slicker, outdoor enthusiast, or culture buff, Vancouver has something to offer.
Victoria: The Capital of British Columbia
Victoria, located on the south end of Vancouver Island, is the capital city of British Columbia. With a population of just over 85,000, it's a relatively small city known for its charming historic buildings and lush greenery.
Victoria has a long and fascinating history that dates back to 1843, when the Hudson's Bay Company established a trading post in the area. Named after Queen Victoria, the city has played a significant role in the province's development and is now a vibrant and modern center for government, commerce, and tourism.
Here are some highlights of what Victoria has to offer:
Stunning architecture: Victoria's downtown area is full of beautiful historic buildings, many of which have been designated as heritage sites. The iconic Empress Hotel, Parliament Buildings, and Christ Church Cathedral are just a few examples of the architectural gems you'll find in the city.
Picturesque scenery: Victoria is surrounded by majestic mountains, picturesque harbors, and pristine beaches. You can take a relaxing stroll along the Inner Harbour or explore the rocky coastline and hidden coves of nearby parks.
Cultural experiences: The city has a rich and diverse arts community, with numerous galleries, theaters, and museums offering a range of exhibits and performances. Visit the Royal BC Museum to learn about the history and culture of British Columbia, or catch a show at the renowned Belfry Theatre.
Outdoor adventures: Victoria is the perfect base for exploring the great outdoors. You can hike, bike, or kayak in nearby parks and waterways, or head out on a whale-watching tour to see orcas, humpbacks, and other marine life in their natural habitat.
Overall, Victoria is a must-see destination for anyone visiting British Columbia. Its mix of history, culture, and natural beauty make it a unique and unforgettable city to explore.
Kelowna: The Heart of the Okanagan Valley
Nestled in the heart of the Okanagan Valley lies the bustling city of Kelowna. Known as the largest city in British Columbia's interior, Kelowna is home to over 142,000 residents, making it a vibrant and dynamic hub for locals and visitors alike.
A Thriving Cultural Scene
Kelowna boasts a thriving cultural scene with numerous galleries, museums, and art installations. The Kelowna Art Gallery has a unique collection of Canadian and international contemporary art, while the Okanagan Heritage Museum showcases the rich cultural history of the region. For those interested in live performances, the Kelowna Community Theatre hosts a variety of concerts, plays, and dance shows throughout the year.
Nature's Playground
Surrounded by picturesque orchards, vineyards, and rolling hills, Kelowna is a nature lover's paradise. The city has over 20 beaches and parks, including the beautiful City Park, which sits right on the shores of Okanagan Lake. There are also many access points to local trails that offer a range of outdoor activities such as hiking, mountain biking, and bird-watching.
Food and Wine Haven
Kelowna is a foodie paradise with a rich farm-to-table culinary scene. Some of the best restaurants are nestled in the city's downtown core, offering a range of international cuisine that utilizes the region's fresh produce. Additionally, Kelowna is known for its award-winning wineries, which specialize in producing distinct varieties such as Pinot Noir, Chardonnay, and Merlot.
Economic Growth
Kelowna has a diverse economy with significant contributions from the tech, tourism, and agriculture sectors. According to the Kelowna Economic Development Commission, Kelowna is the second-fastest growing city in Canada and is projected to become Canada's fourth-largest tech hub, with a $2.1 billion dollar tech sector. Additionally, Kelowna is a popular tourist destination, attracting over 1.9 million visitors annually and generating over $578 million in tourism revenue.
In conclusion, Kelowna is a vibrant city that offers a plethora of cultural, outdoor, and culinary experiences. Whether you're exploring its scenic natural beauty, tasting local wines, or immersing yourself in the local arts scene, this Okanagan gem has something for everyone.
Whistler: The Ultimate Outdoor Adventure Destination
If you're a nature lover and extreme sports enthusiast, Whistler is the ultimate destination for you. Nestled in the heart of British Columbia, Whistler offers a vast array of outdoor adventure activities no matter the season. The following paragraphs will highlight why Whistler is a must-visit destination and some of the best activities you can engage in.
A Winter Sports Heaven
During winter, Whistler showcases some of the best skiing and snowboarding destinations in North America. It boasts of over 8,000 acres of skiable terrain, 200-plus marked trails, and receives up to 40 feet of snow annually. Additionally, it has the longest continuous skiing season in North America, which starts from late November and extends to late May.
Summer Outdoor Fun
The fun doesn't stop when winter ends; there's plenty of outdoor adventure activities to join. Whistler's mountain bike park is one of the best in the world, and the courses accommodate all levels of bikers. You can explore the beautiful alpine and valley trails, which provide stunning panoramas and an opportunity to encounter wildlife – black bears, cougar, and deer.
Zipline Tours
For adrenaline junkies who enjoy flying through the air, Whistler offers an array of exciting zipline tours that will leave you breathless. For instance, the Sasquatch line is currently the longest zipline in Canada and the USA combined! You can ride across beautiful valleys and lush forests up to speeds of seventy miles per hour.
Food and Drink
With over one hundred restaurants, bars, and cafes, Whistler has some of the finest cuisines in British Columbia. Whether you want to experiment with local flavors or stick to your favorite dishes, there is something for everyone. The village has a lively nightlife scene that caters to all tastes, from relaxed and cozy to wild and crowded.
Accommodations
You don't have to worry about where to stay while in Whistler; the destination has a diverse range of accommodation options to choose from. The town boasts of luxurious and comfortable resorts that offer world-class services, budget-friendly lodges, and cozy bed and breakfast rooms that will meet your preferences and budget.
In summary, whether winter or summer, Whistler provides an array of outdoor adventure activities to cater to your interests. From skiing and snowboarding to exciting zipline tours, there are loads of activities to match your interests. Additionally, it boasts of plenty of accommodation options, excellent food, and drink options, and a lively nightlife scene. Make your way to Whistler and see why it's a must-visit destination.
Nanaimo: The Gateway to Vancouver Island
If you're planning a trip to Vancouver Island, you'll likely find yourself passing through Nanaimo. This bustling seaside city is known as the gateway to Vancouver Island, drawing visitors in with its gorgeous natural scenery, rich cultural heritage, and wide range of fun activities.
Here are some of the things you can expect to find when you visit Nanaimo:
Spectacular natural beauty: With its prime waterfront location, Nanaimo boasts a plethora of stunning views. Take a stroll along the Harbourfront Walkway, a beautiful three-kilometer path that takes you past historic landmarks, bustling boat docks, and glittering ocean views. Or, head out to nearby Neck Point Park, which offers a wealth of hiking trails and quiet coves.
Thrilling outdoor activities: Whether you're looking to hike, bike, paddle, or snorkel, Nanaimo has something for everyone. Take a guided kayak tour of the shoreline, or rent a bike and explore the city's many trails. You can also go diving, fishing, golfing or simply have a picnic at one of the city's numerous parks.
Fascinating cultural attractions: If you're a history buff, you'll love exploring Nanaimo's many cultural and heritage sites. Start at the Nanaimo Museum, where you can learn about the city's coal mining past, or head to the Bastion, a historic wooden fort that has stood since the 1800s. The city is also home to a lively arts scene, with frequent festivals, concerts, and art shows.
Delicious eats: Foodies, rejoice! Nanaimo is renowned for its culinary delights, from fresh seafood to gourmet baked goods. Make sure to sample a slice of the city's eponymous Nanaimo Bar, a delicious treat made with chocolate, custard, and coconut.
Overall, Nanaimo is the perfect starting point for your Vancouver Island adventure. With its breathtaking views, thrilling activities, rich history, and tempting eats, you'll find plenty to love about this lively city.
Located in the interior region of British Columbia, Kamloops is a hidden gem that offers a perfect blend of adventure, relaxation, and stunning scenery. Whether you're an adrenaline junkie or someone who enjoys a peaceful vacation, Kamloops has something for you.
Here are some reasons why Kamloops should be on your list of places to visit in British Columbia:
Outdoor activities: Kamloops is a paradise for outdoor enthusiasts with its abundance of hiking, biking, skiing, golfing, and fishing opportunities. The city is situated amid several lakes, hills, and parks that offer endless possibilities for adventure.
Vibrant culture: Kamloops is not only known for its stunning natural beauty, but also for its vibrant cultural scene. The city has numerous museums, art galleries, theaters, and music festivals that showcase the local culture and history.
Wine tasting: Kamloops is home to many wineries where you can taste and purchase some of the finest wines produced in British Columbia. The city's warm climate and fertile soil make it an ideal place for winemaking.
Affordable accommodation: Kamloops offers a variety of accommodation options that cater to different budgets. Whether you're looking for a luxury resort or a budget-friendly motel, you'll find something that suits your needs in Kamloops.
Easy access: Kamloops is easily accessible by road, rail, and air. The city is located at the junction of two major highways (Trans-Canada and Yellowhead) and has its own airport with frequent flights to major Canadian cities.
In conclusion, Kamloops is a hidden gem that offers a perfect balance of outdoor adventure, cultural experiences, and relaxation. If you're looking for a destination that is off the beaten path and has something for everyone, Kamloops is the perfect choice.
Prince George: The Northern Capital of British Columbia
If you're looking for an adventure in the north, Prince George should definitely be on your list. As the largest city in northern British Columbia, Prince George serves as a hub for the communities in the region. Here are some of the reasons why Prince George stands out:
Access to Nature
Prince George is known for its access to nature. The city is surrounded by beautiful forests, mountains, and lakes, making it a great destination for outdoor enthusiasts. The spectacular scenery and abundance of wildlife provide endless opportunities for hiking, fishing, hunting, camping, and more.
Vibrant Culture
Prince George is home to a diverse range of cultural events, festivals, and attractions. If you're interested in history, head to the Exploration Place Museum and Science Centre, which features exhibits on local natural and human history. Art lovers can enjoy the Two Rivers Gallery, showcasing the work of local and regional artists. Additionally, Prince George is host to a variety of musical, theatrical, and dance performances throughout the year.
Economic Hub
As the largest city in northern British Columbia, Prince George serves as an economic hub for many sectors, especially in the forestry, mining, and agriculture industries. The city is home to an airport and a busy rail terminal, making it a key transportation hub in the region. In addition, the University of Northern British Columbia attracts students from around the world, contributing to the economy and culture of the city.
Community Spirit
Prince George prides itself on its strong sense of community. The city has a welcoming and friendly atmosphere, making visitors feel at home. The residents work together to create a safe and livable environment for all, leading to a vibrant and unique community culture.
Prince George at a Glance
| | |
| --- | --- |
| Population | 79,262 |
| Average temperature | 6.1°C |
| Top attractions | Exploration Place Museum and Science Centre, Two Rivers Gallery, Cottonwood Island Nature Park |
| Major industries | Forestry, mining, agriculture |
| Famous for | Access to nature, strong sense of community, economic hub in northern British Columbia |
Whether you're interested in exploring the great outdoors, immersing yourself in local culture, or contributing to a strong and welcoming community, Prince George is an ideal destination.
Squamish: The Outdoor Recreation Capital of Canada
Nestled in the midst of an impressive mountain landscape, Squamish is a vibrant town located on the Sea-to-Sky Highway, just 45 minutes from Vancouver and an hour's drive from Whistler. Known as the "Outdoor Recreation Capital of Canada," it is a paradise for nature lovers and adventure seekers alike.
Outdoor Activities
Squamish offers a wide variety of outdoor activities that cater to all ages and skill levels. Some of the most popular activities in the area include:
Hiking: The town is home to some of the most scenic hiking trails in the country, including the famous Stawamus Chief, a towering granite monolith that attracts hikers from all over the world.
Rock climbing: Squamish is considered one of the best rock climbing destinations in North America, with over 3,000 climbing routes to choose from. Whether you're a beginner or a seasoned pro, you'll find something to challenge you.
Mountain biking: With over 250 km of single-track trails, Squamish is a mecca for mountain biking enthusiasts. From gentle beginner routes to heart-pumping downhills, there are trails to suit all abilities.
Water sports: From kayaking and paddleboarding to rafting and kiteboarding, Squamish's rivers, lakes, and beaches offer endless opportunities for water-based activities.
Wildlife and Scenery
Squamish is also home to an incredible array of wildlife, including bald eagles, black bears, and cougars. One of the best places to observe bald eagles is Brackendale Eagles Provincial Park, where thousands of eagles gather every winter to feed on the salmon that run up the Squamish River.
In addition to its wildlife, Squamish boasts some of the most spectacular scenery in Canada, with towering mountains, dense forests, and crystal-clear lakes.
Events and Festivals
Squamish hosts several events and festivals throughout the year, including the Squamish Wind Festival, Squamish Logger Sports, and Squamish Mountain Festival. These events showcase the town's vibrant culture and friendly community spirit.
Accommodation and Dining
Squamish offers a range of accommodation options to suit all budgets, including hotels, motels, and camping grounds. The town is also home to a diverse range of restaurants, cafes, and bars, serving up everything from gourmet cuisine to hearty pub fare.
Whether you're looking for an adrenaline-fueled adventure or a relaxing escape in nature, Squamish is the perfect destination for your next outdoor adventure.
Title: Conclusion: Exploring the Beauty of British Columbia Cities
British Columbia is a stunning province in Canada that is home to some of the most beautiful cities you will ever see. From Victoria in the south to Prince George in the north, each city has its own unique charm and attractions that make it a great destination for visitors and locals alike.
In this article, we have covered 9 amazing cities in British Columbia that you should add to your travel bucket list. All of these cities offer breathtaking scenery, friendly locals, and a variety of attractions to explore. Whether you are looking for adventure, relaxation, or culture, you will find it in these cities.
Here are some of the highlights of the cities we covered:
Victoria – explore the beautiful Butchart Gardens or take a whale watching tour
Vancouver – walk or bike the seawall, visit Stanley Park, or go shopping on Robson Street
Whistler – ski or snowboard on some of the best slopes in North America or hike through the stunning mountains
Nanaimo – take a stroll through the Old City Quarter or go kayaking in the harbour
Kelowna – tour the wineries in the beautiful Okanagan Valley or go on a hike at Knox Mountain Park
Kamloops – visit the Kamloops Wildlife Park or go on a bike ride on the Rivers Trail
Prince George – explore the Ancient Forest or go on a riverboat tour of the Fraser River
Tofino – surf at Long Beach or take a hike through the rainforest to see the stunning beaches
Whitehorse – explore the Northern Lights or go dog sledding through the snow-covered landscape
No matter which city you choose, you are guaranteed to have an amazing experience in British Columbia. Each city offers a unique blend of natural beauty, cultural attractions, and outdoor activities that will leave you in awe. So, pack your bags and get ready to explore the beauty of British Columbia cities.
Featured Image Credit: Engel Ching