Vancouver
Travel Directions
Travelling to BC and want some tips and tricks for getting here? Sure you can use Google to find what you want but we can offer a local's insight. Check out the information we compiled and feel free to contact us if you have questions!
Victoria | Vancouver Island | Sooke | Tofino | Vancouver | Whistler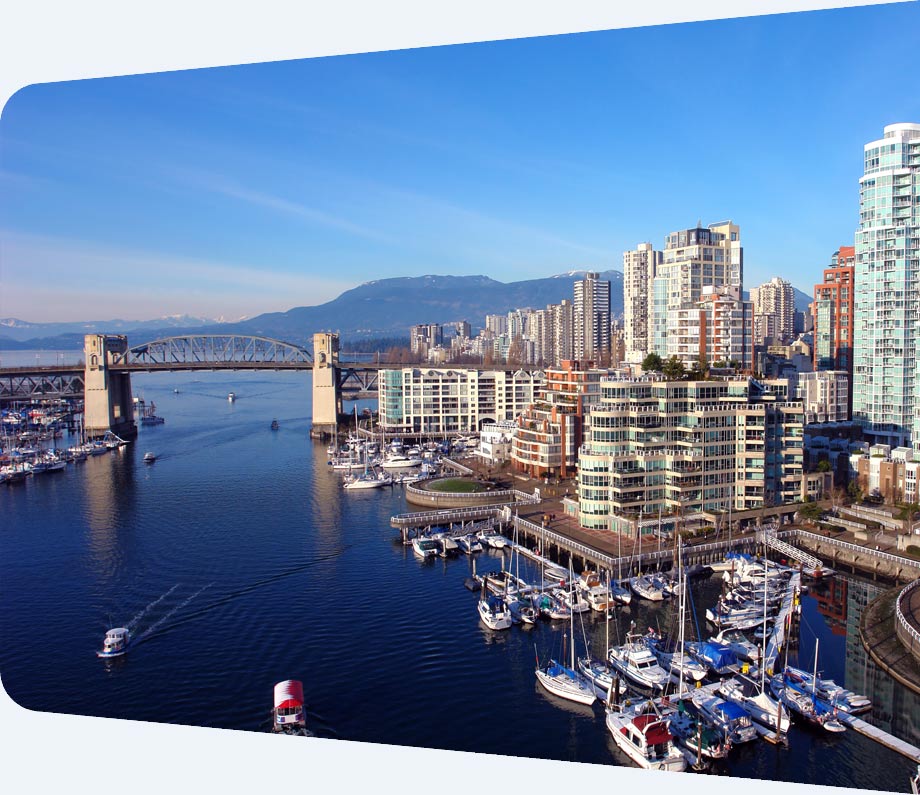 Directions to Vancouver, British Columbia
Getting to Vancouver:
Maps & Directions – By Car:
Click on the links below to jump to the corresponding information on this page:
Seattle to Vancouver
Travel Time: approximately 2.5 – 3 hours
Distance: approx. 176 kilometres or 110 miles
Directions:
Start out going Southwest on MADISON ST towards 5TH AVE by turning left. Turn RIGHT onto 4TH AVE. Turn RIGHT onto UNIVERSITY ST. UNIVERSITY ST becomes a ramp. Merge onto I-5 North. Travel along I-5 North to the US/Canada Border. In British Columbia, Canada, the I-5 N becomes HIGHWAY 99 N. Drive along HIGHWAY 99 N until you reach Vancouver.

Whistler to Vancouver
Travel Time: approximately 1 1/2 – 2 hours
Distance: approx. 115 kilometres or 72 miles
Directions: Follow Hwy. 99 South, also known as the Sea to Sky Highway into North Vancouver. Follow the signs to your destination or travel east to the rest of Canada on the TransCanada, highway 1.
Winter Driving
It is recommended that your car be equipped with proper snow/winter tires for the drive from Horseshoe Bay to Whistler. If you have all-season tires, please carry chains and know how to put them on. In case of heavy snowfall, a shovel and road salt are advisable.
Highway Regulations
Use of seat belts in BC by drivers and passengers is mandatory. Use of headlights during daylight on all vehicles is highly recommended. The maximum speed limit on Highway 99 is 80 km per hour with many slower areas along the way.
Metric Equivalents
All highway signs are posted in metric (kilometres per hour).
30 mph = 50 km/h, 50 mph = 80 km/h.

Gasoline is sold in litres: 1 US gallon = 3.78 litres

1 kilometre = 5/8 or .621 miles; 1 mile = 1 2/3 or 1.6 kilometres.
Traveling Information – By Bus:
Greyhound Coach Lines
Traveling Information – By Train:
BC Rail Ltd. (Cariboo Prospector)
Reservations required
Call 1-800-663-8238
Breakfast or dinner included in price of ticket
Website: www.bcrail.com/bcrpass
Travelling Information – By Helijet:
Helijet Airways
Charter twelve-passenger helicopter service between many Pacific Northwest Destinations and Vancouver International Airport.
Call (604)273-4688 (Vancouver)
Toll free 1-800-665-4354 (outside B.C.).
Travelling Information – By Plane:
Air Canada – Air BC
Reservations required
Call 1-888-247-2262
Flights to and from all major local, national and international destinations
Website: Air Canada
Alaska & Horizon Airlines
Reservations required
Phone: 1-(800) 547-9308
Flights from Vancouver, Victoria, and Seattle with connections to other regular domestic and International flights.
Website: Alaska Air
Harbour Air
Daily scheduled Float Plane service from Victoria, Nanaimo, Gulf Islands, and Queen Charlotte Islands.
Phone: 1-(250) 384-2215 Toll-free 1-(800) 665-0212
Website: Harbour Air
Kenmore Air
As the largest seaplane-based airline in the world, Kenmore Air features scheduled flights, charter service and packaged excursions. Daily scheduled flights from Victoria, Seattle and many other smaller locations.
Call: 1-(800) 543-9595 or 1-(206) 486-1257
Website: Kenmore Air

Contact
Have a property you'd like to list?
EMR Vacation Rentals is always looking for additional high quality properties to add to our inventory. Drop us a line, let's chat about how we can help you!